ValueClick Earnings: Profit Decrease Breaks Two Quarter Streak
Rising costs did not help ValueClick, Inc. (NASDAQ:VCLK) in the first quarter as profit dropped from a year earlier. ValueClick, Inc. offers a suite of products and services that enable marketers to advertise & sell their products through all online marketing channels- display advertising, lead generation marketing, email marketing, search marketing etc.
Don't Miss: Wall St. Cheat Sheet's newest Feature Trades of the Month!
ValueClick Earnings Cheat Sheet for the First Quarter
Results: Net income for ValueClick, Inc. fell to $16.9 million (21 cents/share) vs. $21.2 million (25 cents/share) a year earlier. A decline of 20.6% from the year earlier quarter.
Revenue: Rose 21.8% to $116.5 million YoY.
Actual vs. Wall St. Expectations: VCLK reported adjusted net income of of 26 cents/share. By that measure, the company beat the mean estimate of 18 cents/share. Estimates ranged from 16 cents per share to 21 cents per share.
Quoting Management: "The sales and technology investments we made last year fueled growth in the quarter and set the stage for continued strong performance throughout 2011," said Jim Zarley, chief executive officer of ValueClick. "We are expanding our addressable market into branding budgets through organic growth initiatives and through the acquisition of Greystripe, while also realizing revenue synergies across our divisions. We are in a very strong position to capitalize further on the growth opportunities in both direct-response and branding-oriented digital advertising."
Key Stats:
Last quarter's profit decrease breaks a streak of two consecutive quarters of year-over-year profit increases. Net income rose 35.9% in the fourth quarter of the last fiscal year and 44.5% in the third quarter of the last fiscal year.
Competitors to Watch: Inuvo, Inc. (AMEX:INUV), Harte-Hanks, Inc. (NYSE:HHS), interCLICK Inc (NASDAQ:ICLK), National CineMedia, Inc. (NASDAQ:NCMI), SuperMedia Inc (NASDAQ:SPMD), Lamar Advertising Company (NASDAQ:LAMR), Rapid Fire Marketing, Inc. (RFMK), Interpublic Group of Companies, Inc. (NYSE:IPG), and Omnicom Group Inc. (NYSE:OMC)
Stock Performance: Shares of VCLK are up 1.4% in after hours trading.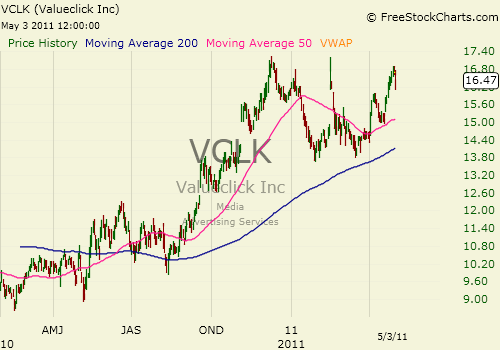 Don't Miss Wall St. Cheat Sheet's newest Feature Trades of the Month!