VC Investment Exploded Last Quarter: Why It's a Good Sign
In another sign that the economy is continuing to pick up steam, capital venture financing and exits hit quarterly levels not seen in a very long time — 2001, to be exact. The totals are not paltry by any means, as investors $13.88 billion spread across 974 deals, all to get startups and entrepreneurs are on their feet. The action is detailed in a report from CB Insights, and reveals that the past three months have seen an explosion in investment activity.
Big-time investments in well-known companies like AirBnB, Uber and Pinterest headlined a series of mega-deals, following huge valuations for AirBnB and Uber specifically. Of course, the huge valuations of those two companies have stoked fears of a tech bubble, which has also been fueled by Facebook's (NASDAQ:FB) purchase of WhatsApp, and other acquisitions. Each month during the second quarter of 2014 saw more than 300 deals, as well as more than $4 billion in total investments.
The levels of investment, not seen in more than 13 years, are especially shocking when compared to levels in the near past. During 2012 and most of 2013, venture capitalists were not throwing money around in nearly the amounts, or at the frequency, as they are now. There could be a variety of reasons for this, but the most likely culprit is renewed faith in the economy. The unemployment rate is down, productivity is on the rise, and consumer confidence is back. There are also huge advancements being made in a number of business sectors, namely tech and healthcare, giving more and more people with bright ideas to get a startup off the ground.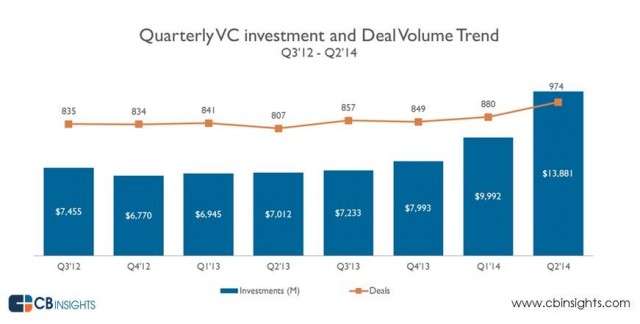 Speaking of business sectors, healthcare was on the receiving end of the most IPO-backed venture capital activity, beating out the tech industry for the fifth-straight quarter. More than half of all IPO-backed capital went to the health care sector, compared to 42 percent which went towards tech, and 4 percent that was given to the 'other' category. Healthcare's share is down a bit from the first quarter of this year, when 63 percent of all capital was invested in that industry. Technology did make up some ground, jumping from 37 percent up to 42 percent.
So where is all this money headed? As you might have guessed, mostly California. In fact, California saw more deals completed than the next 15 states combined. It helps that the state is home to hotbeds like the Bay Area (including Silicon Valley) and Los Angeles, both major fertile lands for entrepreneurs and startups. San Francisco dominated the California landscape in terms of value of investments, harvesting $4.6 billion from 155 deals.
When it came to New York City, the other major beacon of entrepreneurial activity, the city saw more than $1 billion in new capital come flying in. The major factor that sets New York apart from San Francisco is that the money is heavily concentrated in the tech sector. In fact, 9 out of every 10 dollars in investments went to the internet and mobile industries. The internet industry alone ate up 81 percent of the capital, and mobile was in second place with 8 percent.
So investment in small business and startups is up, which is a good sign. Entrepreneurship levels and startup health is considered by many to be a major economic indicator, and it's tied closely to business dynamism and employment levels. Typically, a robust startup and entrepreneurship scene is a sign of a healthy economy.
The economy has been picking up lots of traction lately, despite some major issues involving inequality, wage stagnation and ever-growing student and consumer debt levels. Levels of employment have reached pre-recession levels, and entrepreneurs are acting on their ideas again. Investors are recognizing that, and putting some money back into the economy through venture capital investments.
All in all, the boost in activity is a positive indication that America is back on track after a long recovery from the recession.
More From Wall St. Cheat Sheet: