Ventas Earnings: Profit Decrease Breaks Two Quarter Streak of Increases
S&P 500 (NYSE:SPY) component Ventas Inc. (NYSE:VTR) reported a lower net income in first quarter, missing analysts' estimates. Ventas, Inc. is a real estate investment trust, with a portfolio of seniors housing and healthcare properties.
Don't Miss: Wall St. Cheat Sheet's newest Feature Trades of the Month!
Ventas Earnings Cheat Sheet for the First Quarter
Results: Net income for Ventas Inc. fell to $49 million (30 cents/share) vs. $52.6 million (34 cents/share) a year earlier. A decline of 6.9% from the year earlier quarter.
Revenue: Rose 12.1% to $270.5 million YoY.
Actual vs. Wall St. Expectations: VTR fell short of the mean analyst estimate of 74 cents/share. Estimates ranged from 64 cents per share to 78 cents per share.
Quoting Management: "We delivered excellent results in the first quarter, with a 12 percent increase in normalized FFO per diluted share, and maintained an exceptional credit profile," Ventas Chairman and Chief Executive Officer Debra A. Cafaro said. "In the first quarter, we announced the $7.4 billion acquisition of Nationwide Health Properties, and we expect to complete our $3.1 billion acquisition of 118 high-quality seniors housing assets managed by Atria Senior Living Group soon. With a strong balance sheet, a cohesive management team, and a large and growing investment opportunity set, we are executing on our strategy of building an enterprise that will provide strong returns to stakeholders from a diverse and productive portfolio of high-quality healthcare and seniors housing assets."
Key Stats:
Last quarter's profit decrease breaks a streak of two consecutive quarters of year-over-year profit increases. Net income rose 43.5% in the fourth quarter of the last fiscal year and 16.2% in the third quarter of the last fiscal year.
Competitors to Watch: Nationwide Health Properties Inc. (NYSE:NHP), Universal Health Realty Income Trust (NYSE:UHT), Senior Housing Properties Trust (NYSE:SNH), National Health Investors Inc (NYSE:NHI), Health Care REIT, Inc. (NYSE:HCN), Medical Properties Trust, Inc. (NYSE:MPW), Omega Healthcare Investors, Inc. (NYSE:OHI), HCP, Inc. (NYSE:HCP), LTC Properties, Inc. (NYSE:LTC), and Healthcare Realty Trust Inc. (NYSE:HR)
Stock Performance: Shares of VTR are trading down 1.8% from the previous close.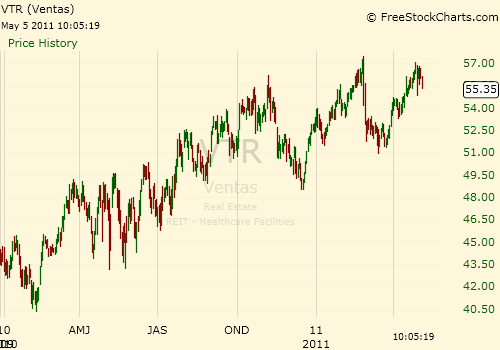 Don't Miss Wall St. Cheat Sheet's newest Feature Trades of the Month!