Verizon Adds USB Modem to Lineup and 4 Telecom Titans Attracting Interest
AT&T, Inc. (NYSE:T): Current Price: $35.27
The company has intentions to sell bonds in a benchmark offering including its first floating-rate notes in nearly five years. It is possible that the biggest U.S. phone company could issue three-year notes with a coupon that is linked to the London interbank offered rate, similar-maturity fixed-rate debt, or a combination of the two, according to a source familiar with the company's transaction.

Sprint Nextel Corp. (NYSE:S): Current Price: $5.70
The company's Q4 loss widened and customer losses continued in the midst of the ongoing shutdown of its older Nextel network due to its intentions to turn around its business so it can compete with larger wireless competitors. Sprint lost 243,000 contract customers during the quarter, which was more than the 229,000 decline that analysts predicted, according to Canaccord Geniuty. However, the carrier's revenue and loss was still better than Wall Street expected.
Are these stocks a buy or sell? Let us help you decide. Check out our Stock Picker Newsletter now.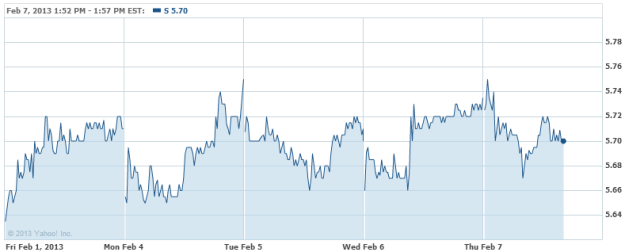 Verizon Communications Inc. (NYSE:VZ): Current Price: $44.44
Verizon Wireless released the new Verizon 4G LTE USB Modem UML295 online. The UML295 is a plug-and-play USB modem, which means that customers are able to easily connect to the Verizon Wireless 4G LTE network, and they will not need to install any software.

Vodafone Group plc (NASDAQ:VOD): Current Price: $27.01
Mobile revenues at Vodafone Group PLC saw a slight decline, which is more than analysts expected during the final quarter of 2012, as Chief Executive Vittorio Colao stated that he is unable to decide when a steepening revenue decline at the company will either abate or turn around. "I cannot give you a quarter when this will happen," stated Mr. Colao on Thursday. He added that the situation would see improvement since Vodafone reduces costs and moves customers onto service plans charging for different levels of data usage as it offers unlimited calls and texts.

Alcatel-Lucent, S.A. (NYSE:ALU): Current Price: $1.63
The company has burned cash and dealt with intense competition and it will likely announce today that CEO Ben Verwaayen will resign after a transition period, according to the Wall Street Journal. It is rumored that the company is searching for a replacement.

Don't Miss: Can Google and FreedomPop Free Americans From Wireless Carriers and ISPs?