Verizon and Redbox Team Up to Disrupt Movie Market: Weekly Tech Business Recap
Here's your Cheat Sheet to the top tech business stories of the week:
Are these stocks a buy or sell? Let us help you decide. Check out our Stock Picker Newsletter now >>
AT&T (NYSE:T): Closing Price $35.40
AT&T is now offering U-verse Screen Pack which will provide its television customers a new method with which to view movies across screens. At $5 per  month, U-verse TV Screen Pack customers will receive unlimited, instant playbacks from an extensive library of movies on U-verse TV, Uverse.com, and on the U-verse application for tablets and smartphones, all without the need to rent DVDs. The company is providing a free preview of Screen Pack Monday through Sunday, January 13th.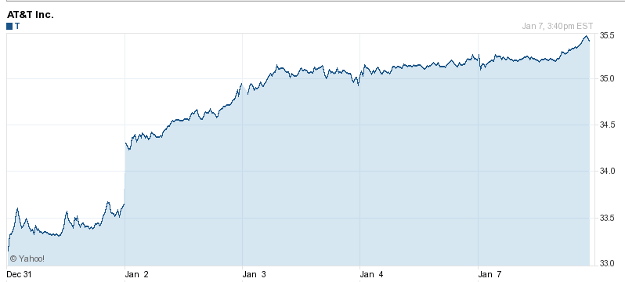 Mitek Systems (MITK): Closing Price $3.76
The mobile imaging software solutions provider Mitek said Monday that it has been issued United States Patent No. 8,326,015, "Methods for Mobile Image Capture and Processing of Documents," by the Patent and Trademark Office. With the addition of patent, Mitek now holds 13 domestic and international patents issued, along with 14 patent applications pending in the United States and in Canada.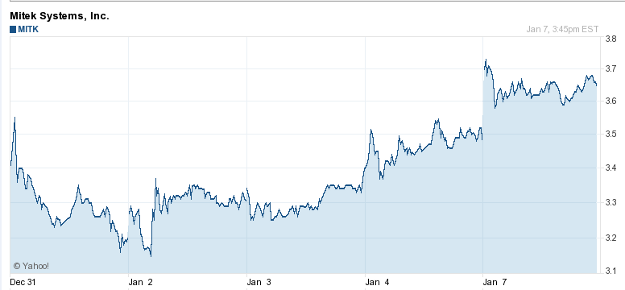 Apple (NASDAQ:AAPL): Closing Price $524.16
On Monday, Apple reported that its customers have downloaded more than 40 billion applications, with almost 20 billion last year alone. The App Store holds in excess of 500 million active accounts and experienced a record-breaking month of December with over two billion downloads. Apple's developer community has created more than 775,000 applications for iPhone, iPad and iPod touch users on a global scale, and developers have been paid over seven billion dollars by the company.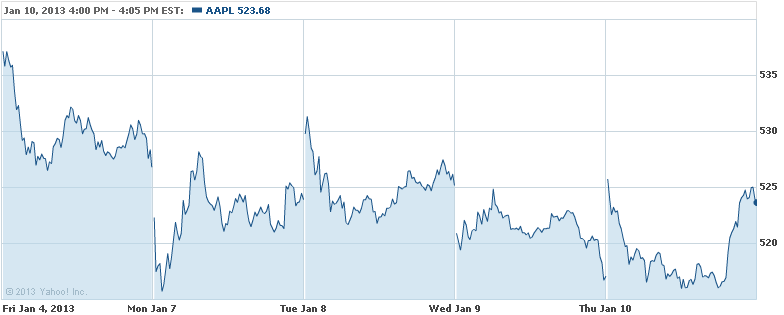 Yahoo! (NASDAQ:YHOO): Closing Price $19.40
Yahoo! saw its shares downgraded at Bernstein Monday to Market Perform from Outperform, along with a price target of $23.  The analyst pointed out that the scheduling of the Alibaba initial public offering is not nailed down, and also that the company's  core business might not be as strong as has been anticipated during the first-half.
Yingli Green Energy Holding Company Limited (NYSE:YGE):  Current price $2.79
On Monday, Yingli said that it expects that its module shipments for the fourth quarter should hit a new historical high with the module shipment for full year of 2012 anticipated to top 2.2 gigawatts, surpassing the high end of its full year shipment guidance of between 2.1 and 2.2 gigawatts, according to preliminary data. Yingli is a leading solar energy firm and one of the world's largest vertically integrated photovoltaic manufacturers which markets its products under the brand Yingli Solar.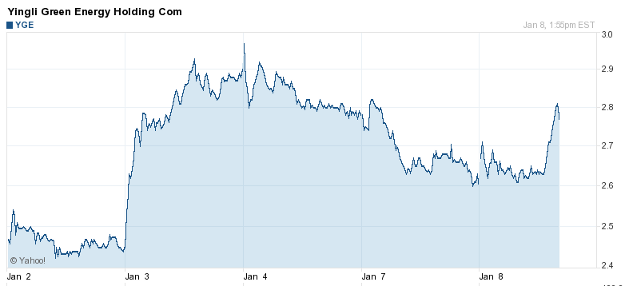 Are these stocks a buy or sell? Let us help you decide. Check out our Stock Picker Newsletter now.
Amazon.com (NASDAQ:AMZN): Current price $265.99
Analyst Ben Schachter at Macquarie Capital believes that Amazon Web Services should see revenues of $3.8 billion in 2013 and that the firm might be worth between $19 billion and $30 billion if it were a standalone company. Schacter's contention depends upon on the addressable market for cloud computing, along with the assumption that AWS comprises the totality of Amazon's growth in the "other" revenue category. The Macquarie research note came concurrently with a Morgan Stanley upgrade in which  Scott Devitt upgraded Amazon based on international growth and global fulfillment services.
Dell (NASDAQ:DELL): Current price $10.78
Dell loses an important officer who helped the company turn itself around just a very few years ago. The now former Senior Vice President for Corporate Strategy, David Johnson, has exited Dell to assume a  senior position with the investment company Blackstone Group (NYSE:BX), according to the Dell spokesperson David Frink. During his three-year tenure at the company, Johnson managed 20 acquisitions worth around a total of $10 billion.
Qihoo 360 Technology Co. (NYSE:QIHU): Current price $32.38
On Monday, Maxim Group reiterated its Buy Qihoo 360 and elevated its price target from $28 to $37. In a note, Maxim commented that, "Search has started to generate ad dollars. QIHU's stock has appreciated more than 30 percent since reporting third quarter results in late November. Aside from the market anticipation for a recovering Chinese economy, we believe QIHU's search revenue prospects are the main driver of the strong up-run. According to our channel checks, QIHU has already started to run ads on its search and may have also signed a collaboration agreement with Google that allows Google ads on its search result pages. We estimate that QIHU's revenue from Google will start contributing in the first quarter at a split ratio higher than the 33 percent it received previously from directing search queries to Google."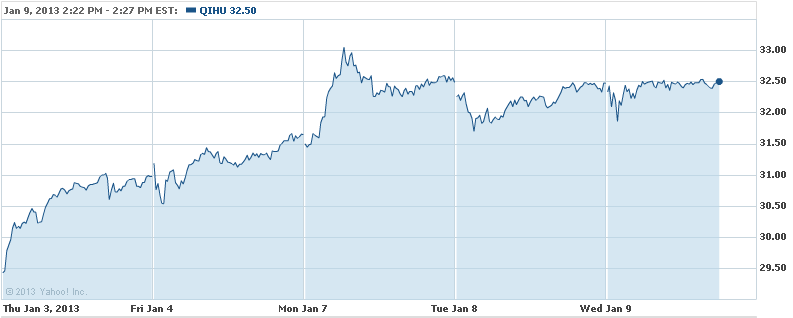 Apple (NASDAQ:AAPL): Closing price $517.10
Apple's strategy of using patent lawsuits to get its rival's products off the market could take a hit if the current argument by the Federal Trade Commission gets traction. In a Tuesday statement to United States International Trade Commission, the FTC contended that infringement of "standard essential patents" should be punished with monetary damages, but not bans, except in specific cases. Since 2010, standard essential patents have played a dominant role in the patent wars that smartphone firms have waged worldwide when Apple tried to block a challenge by Google's Android phones. Since then, the struggle has morphed into a fight with Samsung Electronics, HTC Corp, along with others who employ Android tech.
LinkedIn Corporation (NYSE:LNKD): Closing price $113.65
On Wednesday,  LinkedIn said that it has reached 200 million members with new members joining at a pace of two a second. The firm has added in excess of 13 million members since its last announcement on November 1st. Since reaching one half of the current total 100 million members in March 2011, LinkedIn has added 13 new languages, which now makes the site accessible in 19 languages. Presently, the site sees more than 160 million unique monthly visitors and is the 23rd most visited Web property in the world.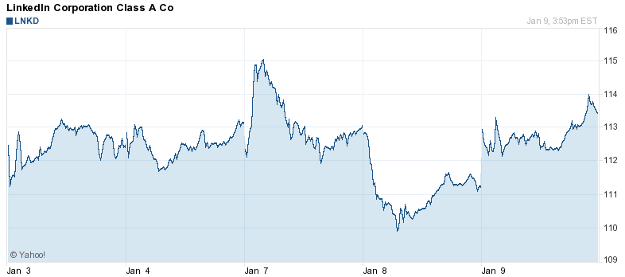 Are these stocks a buy or sell? Let us help you decide. Check out our Wall St. Cheat Sheet Stock Picker Newsletter now >>
Verizon Communications (NYSE:VZ): Closing price $43.00
Chief Executive Lowell McAdam of Verizon has told Reuters at the Consumer Electronics Show in Las Vegas that his firm is not in negotiations with Vodafone Group (NASDAQ:VOD) in regards to taking full ownership of their Verizon Wireless venture, regardless of this week's market chatter that such a deal could happen. However, Verizon owns 55 percent of the wireless venture and has long said that it would be interested in acquiring Vodafone if the 45-percent owner would divest its stake.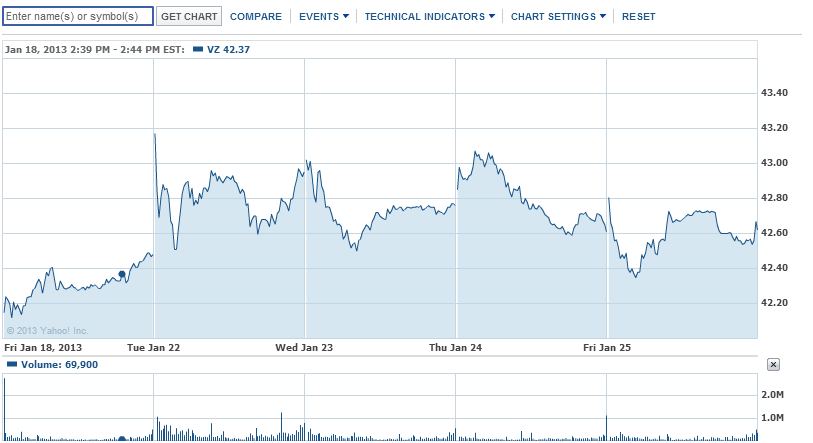 Intel Corporation (NASDAQ:INTC): Closing price $21.45
Once again, Intel has promised to increase the size of its mobile presence and compete more effectively with chips such as those from Qualcomm and Texas Instruments, but the chip majors' presentations and presence at the International Consumer Electronics Show made it "feel like Intel still is not taking the space seriously," said Steve Kovach of Business Insider.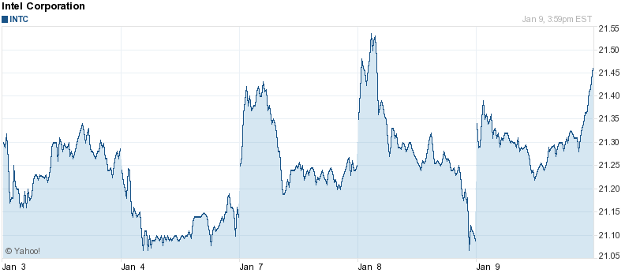 Verizon Communications (NYSE:VZ): Current price $43.37
The public should see the intro of the streaming movie service Redbox Instant by Verizon prior to the end of the first quarter, according to the venture's Chief Executive Shawn Strickland Wednesday at a CES 2013 breakfast. The service will compete with Netflix, Hulu, Amazon, and other like players, but Redbox has the advantage of 42,600 physical kiosks nationwide that offer new releases. Redbox Instant subscribers will receive monthly DVD rental credits and unlimited streaming for $8 per month. Strickland said that, "We're doing the invitation-based beta now… but we will launch sometime later this quarter. Movies are the core of the Redbox brand, and movies are underserved in this space."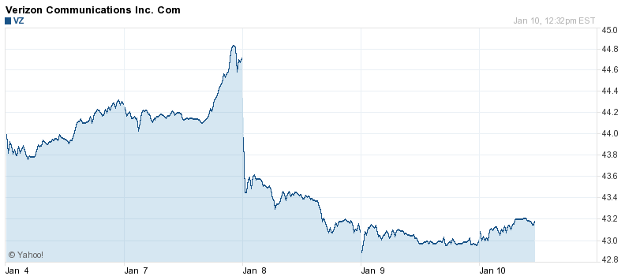 Apple (NASDAQ:AAPL): Current price $517.76
Apple is developing a less expensive iPhone, said a Wall Street Journal report on Tuesday. Although it is not at all clear what the price of a device fitting that criterion might be, if it does launch, the question showcases a reality that the company faces, namely the high cost of the iPhone globally. One possible solution is that Apple has reached arrangements with certain carriers that will subsidize a portion or all of the bill, a plan that is especially seen in the United States and in parts of Europe. Models more than a year old are even out of the budgets of many customers, hence an even cheaper iPhone.

Are these stocks a buy or sell? Let us help you decide. Check out our Stock Picker Newsletter now.
Research In Motion (NASDAQ:RIMM): Closing price $11.79
At the 2013 Consumer Electronics Show, RIM's Chief Marketing Officer Frank Boulben reported that his company will release a minimum of six BB10 devices in 2013, starting with an all-touch device and a phone with a Qwerty keyboard, which will be announced on January 30th. Further, the firm intends to eventually attain a range of price points at the high, middle and lower end of the market with its BB10 devices, according to Boulben. However, he also revealed that RIM has no exclusive arrangements with carriers for BB10 in any markets and thus will be free to pursue different market segments with its new platform and devices, commenting that, "We intend over time as we transition the portfolio to have a full range of devices."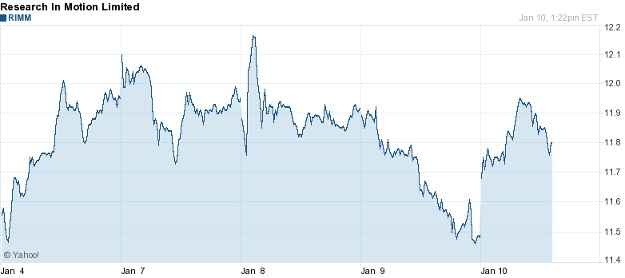 Microsoft Corporation (NASDAQ:MSFT): $26.31
Microsoft's existing Messenger service is retiring on March 15th, says The Next Web, affirming that the company is set to make the move from Messenger to Skype. However, Messenger will still be available in China.
.Apple (NASDAQ:AAPL): Current price $521.72
A deal might be in the works for a new partner carrier for Apple's iPhones if a mutually beneficial arrangement can be had with NTT DoCoMo, says its President Katoru Katō, according to Nikkan Kogyo Shimbun, which added that a DoCoMo iPhone might  not happen soon since the firm is only now in preliminary talks to bring Apple's popular device onto its smartphone network. As it now stands, Apple requires partner carriers to sell a predetermined amount of iPhones yearly and Kato believes that DoCoMo can hit that number so long as handsets account for 20 to 30 percent of the company's overall smartphone sales.

Vodafone Group (NASDAQ:VOD): Current price $26.58
On Thursday, the group bought 5.65 million of its ordinary shares on the London Stock Exchange from Barclays Capital Securities Ltd. at 164.2678 pence, which it will to hold in treasury. Since one month prior, December 10th, Vodafone  has purchased 127.41 million shares at £203.21 million.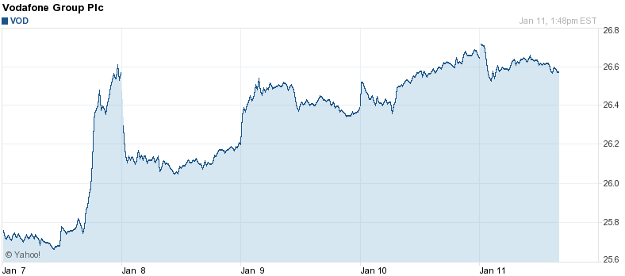 Xerox Corporation (NYSE: XRX) Current price $7.27
On Friday, Xerox said that Executive Vice president and Chief Financial Officer Luca Maestri will exit the firm, effective February 28th, to take the role of corporate controller at Apple. The company has begun an external search for a new CFO and Maestri will be with Xerox through the end of February so as to help manage the financial leadership transition.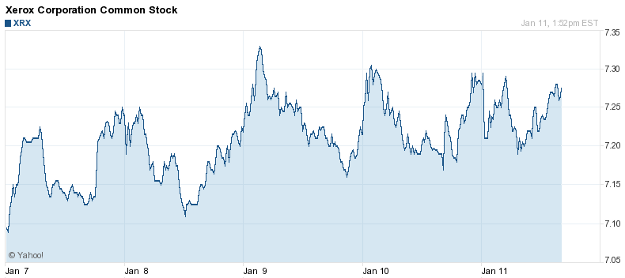 SAP (NYSE:SAP): Current price $81.79
SAP says that its Business Suite software, which is used to calculate financials and manage operations, can now run on the firm's Hana database, according to Business Insider. The achievement sets a challenge to Oracle (NASDAQ:ORCL), which also markets business software.
Start 2013 better than ever by saving time and making money with your Limited Time Offer for our highly-acclaimed Stock Picker Newsletter. Get our fresh Feature Stock Pick now!