Verizon Attains Cisco Certification and 2 Dow Movers for Wednesday
Wal-Mart Stores (NYSE:WMT): Current price $72.91
Wal-Mart is one retailer that sees an opportunity to claim victory in a lobbying battle against online firms that do not collect sales tax from their customers. They are pressing United States Senators to conduct a non-binding vote this week to show support for allowing states to impose sales taxes on out-of-state online sellers, according to Bloomberg.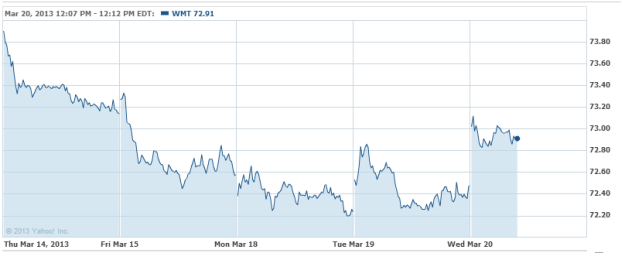 Exxon Mobil Corporation (NYSE:XOM): Current price $88.40
Some ten years ago, Chevron's market capitalization stood at $70 billion, half that of Royal Dutch Shell (NYSE:RDSA). Currently, Chevron is worth $232 billion, surpassing Shell's $215 billion. The lead appears sustainable, and highlights important differences in the two oil majors' strategies and performance, according to The Wall Street Journal's Heard on the Street. Overall, Chevron has grown without sacrificing returns.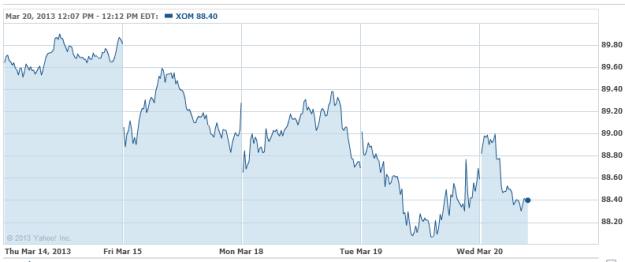 Verizon Communications (NYSE:VZ): Current price $48.86
Verizon has attained Cisco Multinational Gold Certification status in EMEA by recertifying France, Germany, the Netherlands and the United Kingdom. To earn Gold Certification, Verizon had to pass rigorous standards established by Cisco in networking competency, service, support and customer satisfaction.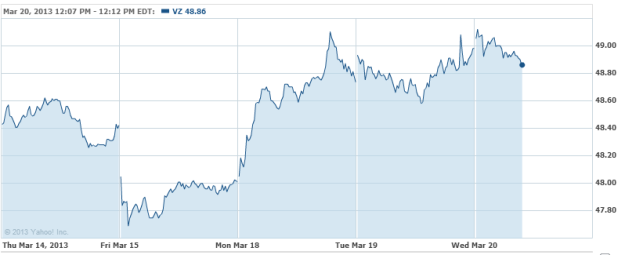 Investing Insights: Could Starbucks Give Your Portfolio a Jolt?