Verizon Customers Still Frustrated in NYC and 4 Telecom Titans Attracting Interest
AT&T, Inc. (NYSE:T):  Current price $35.14
February is a magical time for legislators and legislative aides who are willing to take free tickets from corporations seeking to buy influence. Over the past decade, telecommunications giant AT&T gave $25,000 worth of free "Disney on Ice" tickets to legislators and aides.

Sprint Nextel Corp. (NYSE:S): Current price $5.86
Sprint Nextel Corp. users have not received the update which brings Samsung's premium suite to the Galaxy S3. Owners will have to wait for a while because the latest L710VPMA6 release does not include it.

Verizon Communications Inc. (NYSE:VZ):  Current price $44.31
More than three months after Sandy, frustration continues to grow in parts of lower Manhattan where many residents and businesses are still without phone or internet service. Along Avenue C, roughly from Third Street to Tenth Street, there are still "cash only" signs in the windows of some businesses because their internet is down and they can't process credit cards. Fed-up Verizon customers are cancelling contracts and moving to other providers at places like Bobwhite Lunch Supper Counter and Alphabet City Wine Co.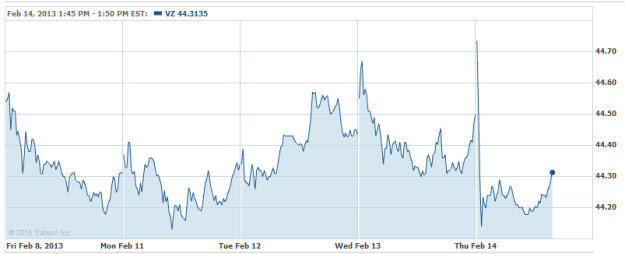 Vodafone Group PLC. (NASDAQ:VOD):  Current price $26.09
Kabel Deutschland Holding AG, whose stock has more than tripled since their debut three years ago, will give Vodafone instant access to more cable households in Germany. Vodafone is considering a bid for Germany's top cable operator with a market value of more than 6 billion euros ($8 billion), a person familiar with the matter said while asking not to be identified because the matter is private.

Alcatel-Lucent, S.A. (NYSE:ALU): Current price $1.58
According to Bloomberg, Alcatel-Lucent Chairman, Philippe Camus, 64, said he'll seek a contract extension in May as he looks to turn around the network equipment maker with the help of a new Chief Executive Officer. Current CEO, Ben Verwaayen, whose contract runs out in May, told directors that he will step down after a succession plan is in place.

Don't Miss: Here's a Twist: Did Mobile Phone Sales Really Drop in 2012?