Verizon Dominates Satisfaction Survey and 4 Telecom Titans Attracting Interest
AT&T, Inc. (NYSE:T): Current Price: $35.19
In regards to the recent change to laws concerning unlocking phones from a carriers, there has been a great deal of uncertainty about what phones will and will not be able to be unlocked. If someone wishes to purchase a Nokia Lumia 920 from AT&T and move it to another carrier, that person will have to wait until the end of an exclusivity agreement that Nokia and AT&T have in place. This agreement will likely end in May or later.
Sprint Nextel Corp. (NYSE:S): Current Price: $5.74
Sources claim that the FCC has intentions to continue with its original timetable for reviewing the proposed $20 billion acquisition of Sprint by SoftBank, as it has dismissed Dish (NASDAQ:DISH) Chairman Charlie Ergen's request for a "pause" as Dish continues with a deal for Clearwire (NASDAQ:CLWR), according to the New York Post.
Are these stocks a buy or sell? Let us help you decide. Check out our Stock Picker Newsletter now.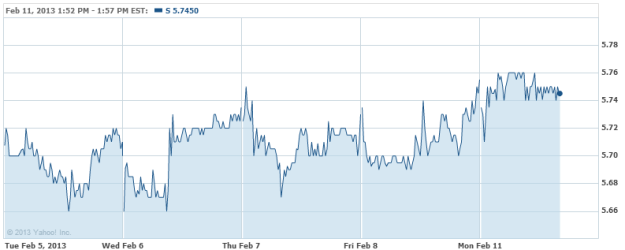 Verizon Communications Inc. (NYSE:VZ): Current Price: $44.20
The J.D. Power and Associates 2013 U.S. Wireless Customer Care Full-Service Performance Study has named Verizon Wireless the highest in customer care satisfaction for the fourth consecutive reporting period.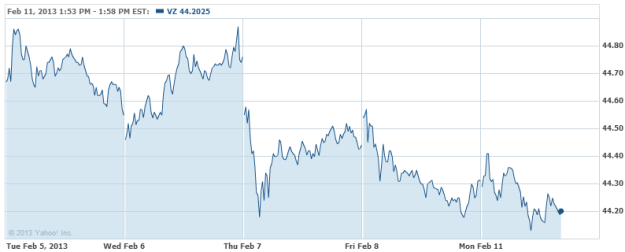 Vodafone Group plc (NASDAQ:VOD): Current Price: $27.24
Vodafone and 3 Austria asked their subscribers to refrain from updating their iPhone 4S devices to Apple's (NASDAQ:AAPL) new iOS 6.1 operating system due to reports that the upgrade creates connectivity problems, GIGAom reports.

JDS Uniphase Corporation (NASDAQ:JDSU): Current Price: $15.27
The company's President and CEO, Tom Waechter, is to present on behalf of JDSU at the 2013 Morgan Stanley Technology, Media and Telecom Conference on February 26. The parties interested will have the ability to access the webcast live at the Company's Investor Relations website through a visit to the Events and presentations section.
Investing Insights: Is Alcatel-Lucent Likely to Outperform?