Verizon Launches New Prepaid Plan and 2 Dow Movers To Watch
Verizon Communications  (NYSE:VZ): Current Price $50.85
Verizon has introduced a new prepaid plan to entice feature phone buyers, according to CNET. Launched Thursday, the new no-contract plan is at  $35 per month and offers 500-anytime minutes of talk alongside unlimited text and Internet. The deal is aimed strictly towards feature phones, so smartphone owners need not apply. Beyond that, Verizon offers four feature phones along with the plan: the LG Cosmos 2, the Samsung Gusto 2, the Samsung Intensity 3, and the LG Extravert, and all four phones are heavily discounted when bought, as part of the plan.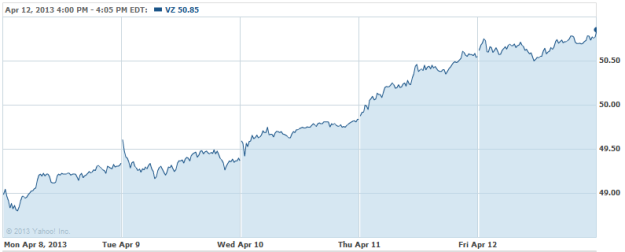 Microsoft Corporation (NASDAQ:MSFT): Current Price $28.78
Microsoft shares fell on heavy volume as the analyst Heather Bellini at Goldman Sachs downgraded the stock. Bellini thinks that the company has four "Plan B" options to finally get its stock out of its current 10-year range, credit crisis not withstanding. She notes that Microsoft shares are up only 3 percent since Apple (NASDAQ:AAPL) debuted the iPhone in June 2007, compared to a gain of 260 percent for Apple, and 170 percent for Samsung. The analyst noted that "We expect the shares to remain range bound (noting we have downside to our price target) especially given our view on weakness versus expectations for fiscal years 2013/14 revenues and earnings per share.

Johnson & Johnson (NYSE:JNJ): Current Price $82.70
In a report, Jefferies Group has placed a $85 price target on Johnson & Johnson, and it currently has a a Hold on the stock. A Jefferies analyst commented that "We remain positive on Pharmaceuticals and see valuation as attractive for most stocks. Our Top Pick in the U.S. is AbbVie (ABBV), with Novartis (NYSE:NVS) being our most preferred name in Europe. Sanofi (NYSE:SNY), Roche, and Pfizer (NYSE:PFE) remain high conviction Buy ratings. We point to Eli Lilly (NYSE:LLY) and GlaxoSmithKline (NYSE:GSK) as least preferred names."

Investing Insights: Does Celgene Support All-Time Highs?