Verizon Partners With Turner Over Content to FiOS Subscribers and 2 Other Dow Movers to Watch
Verizon Communications Inc. (NYSE:VZ): Current price $47.04
Verizon has reached a long-term contract with Time Warner Cable's Turner Broadcasting division for supplying Turner's content to FiOS TV Subscribers. The arrangement will afford Verizon's FiOS TV Subscribers access to a number of entertainment channels that include TBS, Verizon Communications Inc. TNT and Cartoon Network, which can be viewed via TV, PC, tablet, and mobile handsets. Through the terms, FiOS TV customers can access on-demand programming and live streaming of all major Turner networks through instant access with automatic login ease.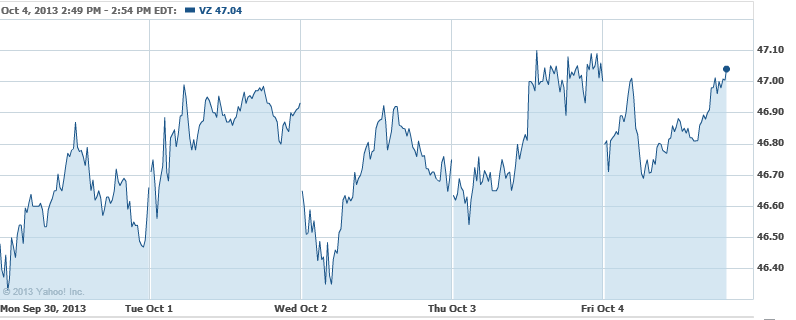 Exxon Mobil Corp. (NYSE:XOM): Current price $86.26
It was announced Friday by Exxon Mobil's project partner Oil Search, that the former has obtained an additional $1.5 billion in debt financing for its $19-billion Papua New Guinea liquefied natural gas project. The $1.5 billion in supplemental financing will help cover overruns at the 6.9 million tons-per-year LNG development, at which costs jumped from $15.7 billion to $19 billion late in 2012. PNG LNG remains set to deliver its first LNG cargoes in 2014, according to Oil Search.

Wal-Mart Stores Inc. (NYSE:WMT): Current price $72.92
During the previous quarter, Wal-Mart de Mexico, or Walmex, saw its same-store sales in Mexico fall by 4.7 percent, a considerably higher number than the consensus of a drop of 2.6 percent. Analysts Gustavo Piras Oliveira, Alfonso Martinez, and Thais Pinho at UBS discussed the details. "This was the result of a 4.8percent decline in store traffic while average price remained virtually flat. The main issue is that the trend in consumer weakness remains (year-to-date same store sales are now down 1.2 percent year-to-year) and that Sam's Club continues to underperform other formats and the turnaround process is taking longer than expected."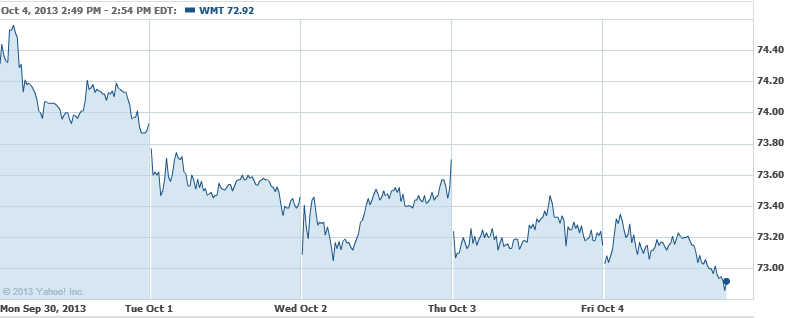 Don't Miss: Will Amazon's Set-Top Box Go Live in Time for the Holidays?