Verizon Scores Microsoft Console Rights and 4 Telecom Titans Attracting Interest
AT&T, Inc. (NYSE:T):  Current price $35.30
The nation's second-largest wireless carrier fired up their 4G LTE network in Northwest Georgia, covering the cities of Dalton and Calhoun. AT&T also rolled out service in Albany, which is located in the Southwestern part of the state. Traveling back up north, AT&T's Tuesday roll out also included Norfolk, VA as well as parts of Portsmouth and Virginia Beach.

Sprint Nextel Corp. (NYSE:S):  Current price $5.72
Sprint Nextel Corp.'s Chief Executive Officer, Dan Hesse, could walk away with $8.6 million in compensation if he leaves the Overland Park-based wireless carrier within 18 months of a merger with SoftBank Corp. To collect on the severance protections, SoftBank must end Hesse's employment in that time without cause or Hesse must have a "good reason" for terminating his employment, Sprint reported Monday in a filing with the Securities and Exchange Commission.
Are these stocks a buy or sell? Let us help you decide. Check out our Stock Picker Newsletter now.

Verizon Communications Inc. (NYSE:VZ): Current price $44.73
Microsoft announced that they have scored a big win with Verizon Communications Inc. The company's Xbox 360 will be getting exclusive console launch rights to the carrier's Redbox Instant service.

Vodafone Group PLC.(NASDAQ:VOD):  Current price $26.75
Vodafone Group PLC. has become the latest network provider to add a set of Windows Phone 8 smartphones to their range of handsets available with a contract, using Nokia's Flagship Lumia 920.

Alcatel-Lucent, S.A. (NYSE:ALU):  Current price $1.73
India's Bharti Airtel said that they will buy out Alcatel-Lucent, S.A.'s entire stake in the joint venture with Alcatel Lucent Managed Network Service India, a company which managed Bharti's fixed line and broadband networks in the country.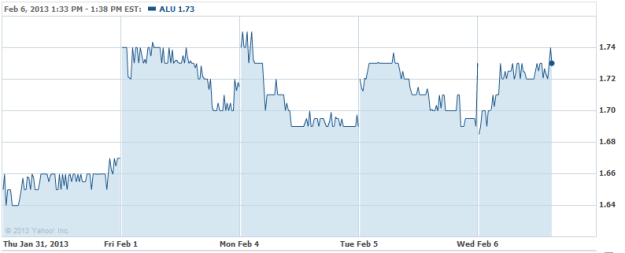 Don't Miss: Can Microsoft Really Top BlackBerry?