Verizon Stands to Pay $5.1B in Additional Interest and 2 Other Dow Movers to Watch
Verizon Communications Inc. (NYSE:VZ): Current price $48.05
A rally in Verizon's bonds subsequent to its $49 billion offering indicates that the company will pay up to $5.1 billion more in interest for the certainty of finalizing the deal one week before the Federal Reserve could start tapering its record stimulus measures. Since the September 11 offering, yields on the securities have fallen off, with the $15 billion of 6.55 percent bonds due in September 2043 marking the biggest piece of the eight-part deal and trading at 109.5 cents on the dollar Tuesday, 9.6 cents higher than the issue price. This lowered the yield to 5.88 percent, implying that the company will pay roughly $101 million of extra interest per year on the notes than if it sold at the current market rates.

Caterpillar Inc. (NYSE:CAT): Current price $86.61
Shares of Caterpillar were downgraded Wednesday morning at Robert Baird from Outperform to Neutral while continued weakness from the mining sector could cut into earnings at the firm. Shares are lower by about 0.57 percent in early afternoon trading.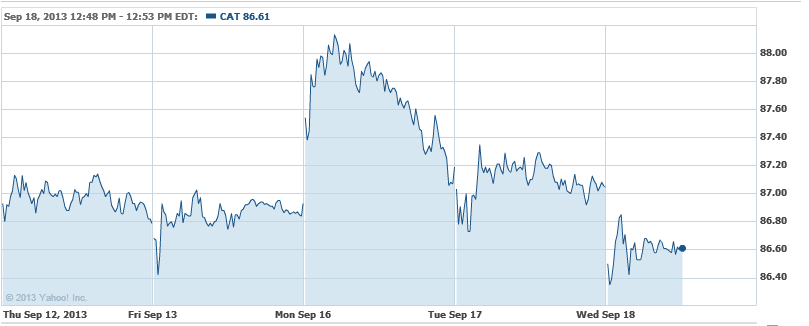 Procter and Gamble Co. (NYSE:PG): Current price $78.80
Downy is working jointly with Lauren Conrad and California Closets to develop a new look and results to its product. A recent Survey.com poll run on behalf of P&G's Downy indicated that 84 percent of women want to reinvigorate and bring their clothes back to life.

Don't Miss: Sprint Jumps on Upgrade Plan Bandwagon.