Verizon Takes A Shot Over Vodafone's Bow and 3 More Hot Stocks
Verizon (NYSE:VZ): Verizon has stepped up its game against Vodafone (NASDAQ:VOD), which possesses a 45 percent stake in the carrier which Verizon is attempting to buy out. It's no secret that Vodafone wants to maintain its grip on the U.S. company, though Verizon is equally determined to set out on its own. During a meeting with investors, Verizon CEO Lowell McAdam dropped hints that the company may not pay its distribution to its two owners this year and said that the company's priority was to pay down its $5 billion in debt coming due in the near future. See what David Einhorn's take on the situation is.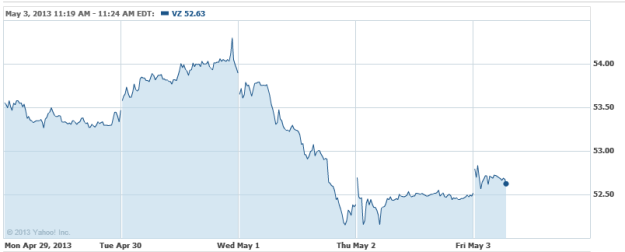 Moody's (NYSE:MCO): Revenues of $738.1 million handily beat estimates by $10.69 million. Impressively, the company took a charge of $451.4 million during the quarter related to litigation, but still managed to remain profitable. Strong performance from Moody's Analytics and Moody's Investors Service helped carry the company, which also announced a quarterly dividend of $0.20, in line with its previous. Forward yield is 1.32 percent, for shareholders on record on May 20, payable June 10, with an ex-dividend date of May 16.

Lululemon Athletica (NASDAQ:LULU): Wedbush has downgraded shares of Lulu, to Neutral from Outperform, and put its price target at $75. An internal survey conducted by Wedbush revealed that market share of the company is slipping.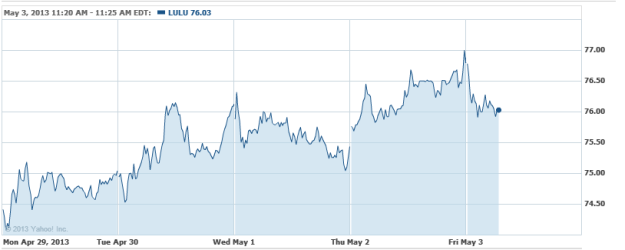 ZAGG Inc. (NASDAQ:ZAGG): Shares of ZAGG are tanking over 25 percent, following a less-than-favorable quarterly report. Earnings of $0.11 missed by $0.10, while revenue of $51.7 million missed by $15 million. Outlook wasn't looking favorable either, with new expectations for 2013 revenue of $274 million-$280 million, far below a prior range of $313 million-$318 million and a consensus of $315.8 million. The company attributed the miss on a delayed release of the next generation iPhone.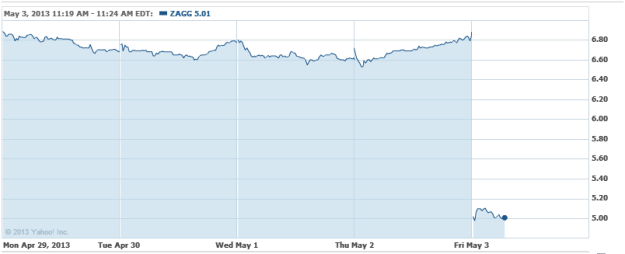 Don't Miss: 5 Ways to Spend Your Tax Refund on Your Home.