Verizon to Host Recycling Rallies and 4 Telecom Titans Attracting Interest
AT&T, Inc. (NYSE:T): Current Price: $35.27
According to AT&T, claims in a lawsuit concerning price-fixing LCD displays were partially reinstated by the 9th Circuit U.S. Court of Appeals in San Francisco. On Thursday, AT&T won the right to have its claims reinstated based on Californian law and the purchase of panels made outside of the state, reversing a previous lower-court judgement dismissing AT&T's allegations. The U.S. phone carrier now has the ability to sue companies including Taiwanese AU Optronics Corporation and South Korean firm Samsung Display Co., a subsidiary of Samsung Electronics.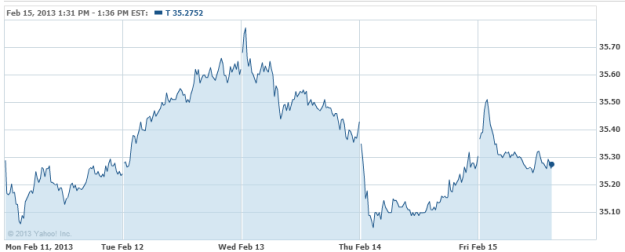 Sprint Nextel Corp. (NYSE:S): Current Price: $5.89
John Paulson, the billionaire hedge fund manager, has bought shares of Sprint Nextel Corp. Paulson & Co. is based in New York and it purchased 127.7 million shares of Sprint last quarter, claims a filing yesterday with the U.S. Securities and Exchange Commission. Softbank Corp., the Japanese mobile carrier, is interested in buying Sprint for $20 billion in order to expand into the U.S.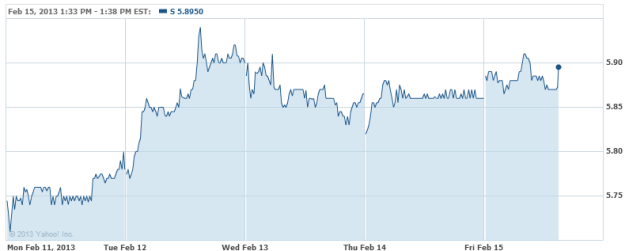 Verizon Communications Inc. (NYSE:VZ): Current Price: $44.36
The is set to host a series of recycling rallies as a way to assist consumers in disposing of common household electronics in a safe and environmentally-sound manner. Verizon employees and members of the general public will be able to bring laptop and desktop computers and stereo and audio equipment along with additional common household electronics to one of eight free recycling events that are to be held at Verizon facilities countrywide. Locations in 2013 are to include Albuquerque, NM, Wilmington, NC, Charleston, SC and Ashburn, VA.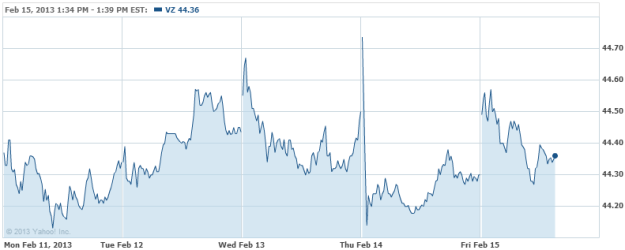 Vodafone Group plc (NASDAQ:VOD): Current Price: $25.94
The company stated that it reached agreement with labor unions and will lay off 620 workers at its recession-hit Spanish unit. This adds to a list of job cuts in Spain's troubled economy.

MetroPCS Communications, Inc. (NYSE:PCS): Current Price: $10.40
Paulson & Co., MetroPCS Communications' biggest shareholder with 8.7 percent, said it is possible that it will oppose its merger with Deutsche Telekom's (DTEGY) T- Mobile USA unit as a result of the debt the two would have together, according to Bloomberg. Paulson agrees with arguments by an opponent of the deal, P. Schoenfeld Asset Management LP, claims an e-mailed statement. Paulson continues to withhold its decision regarding whether to vote for the deal until it sees the final proxy statement.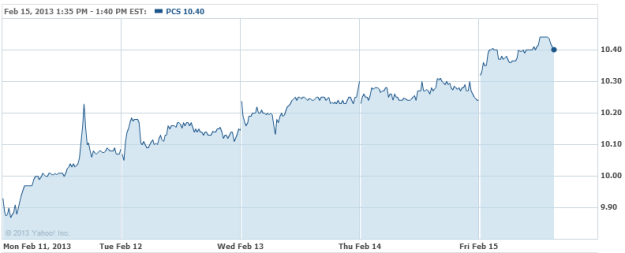 Investing Insights: Is EMC an Outperform?