Verizon, Vodafone Discuss Merger and 2 Dow Movers for Monday
Exxon Mobil Corporation (NYSE:XOM): Current price $89.10
Norway's Statoil (NYSE:STO) Might think of  Hess Corporation (NYSE:HES) as an alluring takeover target, according to The Wall Street Journal, which mentioned other potential buyers for the entire company, including Chevron Corporation (NYSE:CVX) and possibly Exxon Mobil.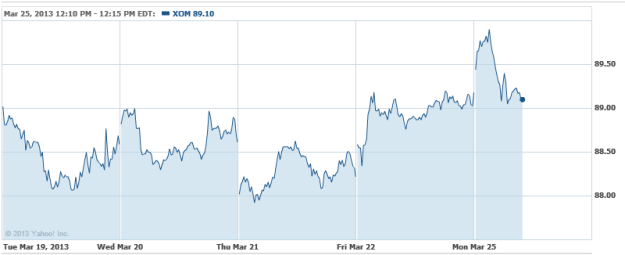 JPMorgan Chase & Co. (NYSE:JPM): Current price $48.51
Shares of Lions Gate Entertainment (NYSE:LGF) moved up in early trading after reports that CBS Corporation (NYSE:CBS) will acquire an interest in TVGN, formerly known as the TV Guide Network. CBS will pay more than $100 million for a 50 percent stake in the network from JPMorgan Chase's  One Equity Partners, said an inside source to Bloomberg. Meanwhile, The Hollywood Reporter said that CBS will pay "about" $100 million for the 50 percent stake, which is less than the $123 million that One Equity paid for its half and also less than half of the $250 million that Lionsgate paid for the entire network in early 2009.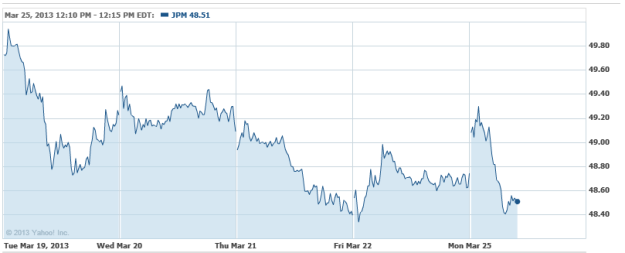 Verizon Communications (NYSE:VZ): Current price $49.16
The market-value gap has been narrowed between Vodafone Group (NASDAQ:VOD) and Verizon Communications as investors think a merger or an agreement over their domestic wireless venture more and more likely. Shares of Vodafone have risen around 12 percent since March 5, when Bloomberg said that Verizon is working to resolve their relationship in 2013, and that the firms have discussed an array of options including the idea of the United States carrier purchasing 100 percent of the Verizon Wireless venture.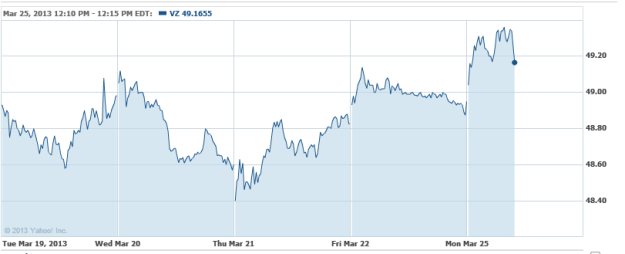 Don't Miss: Vodafone Knocks Verizon To #2.