Verizon's Going to Canada, Ford Scores in Europe: Market Recap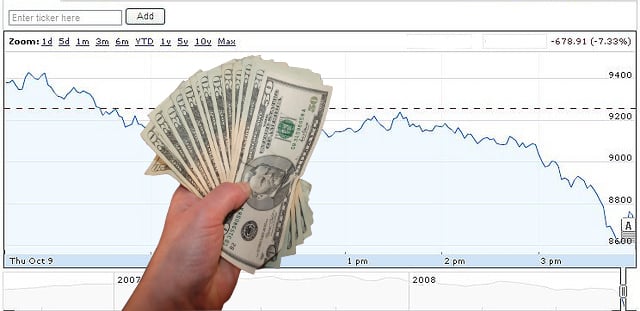 U.S. stocks rose today, with the S&P 500 rising to its highest point in June as investors wait for news from the Federal Reserve's two-day meeting to decide whether to continue with stimulus efforts. Many investors seem to doubt that the central bank will cut stimulus anytime soon despite the improving economy, and are expecting the Fed to err on the side of caution when choosing to end the stimulus program.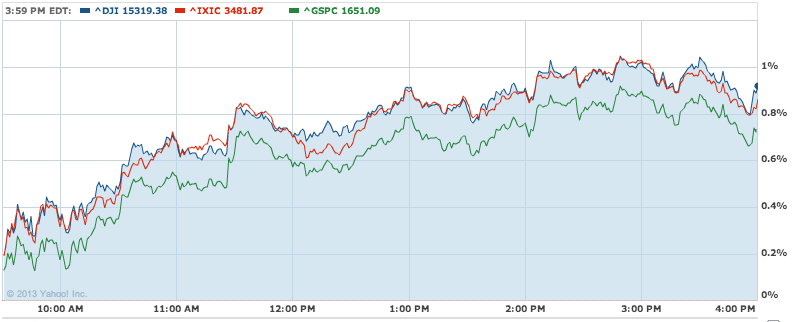 Gold: -1.19% to $1,366.50 per ounce  Oil: +0.47% to $97.85 per barrel  U.S. 10-Year: +0.51 to 2.18%
Low Inflation Is a Mixed Blessing for U.S. Economy: At a glance, quantitative easing has four primary effects on the economy: lower real interest rates, higher equity valuations, currency depreciation, and higher inflation expectations. Most of these effects have been evident in the ongoing economic recovery — interest rates are near record lows, the markets have never been higher, and forex is borderline competitive — but inflation, as many economists are quick to point out, has been almost problematically low… (Read more.)
Economic Optimism Spills Over Into Retail: Last week, the U.S. Department of Commerce reported higher-than-expected retail sales figures and stoked optimism for more accelerated growth in the near future. The data even prompted Barclays to upwardly revise its predictions for second-quarter gross domestic product from a 1.1 percent annual rate to a 1.8 percent annual rate… (Read more.)
Draghi Won't Be Stymied By the Limitations of Monetary Policy: European Central Bank President Mario Draghi devoted his Tuesday speech in Jerusalem to the limitations of monetary policy — a topic that "has attracted a great deal of attention since the beginning of the financial crisis." He began by saying that "circumstances have forced all major central banks to resort to instruments and policies carefully tailored to the unusual situation." The 17-member euro zone is experiencing its longest recession ever — in the first three months of the year, gross domestic product fell 0.2 percent and unemployment hit at a record high… (Read more.)
Here's your cheat sheet to today's top stock stories: 
Verizon Wireless (NYSE:VZ) has confirmed that it's interested in buying the small Canadian wireless network Wind Mobile, as Canada looks to expand its national wireless market to offer consumers more competition and more choice. Verizon's Chief Financial Officer Fran Shammo confirmed reports about Verizon's interest in expanding into the Canadian wireless market to The Wall Street Journal on Tuesday… (Read more.)
Intel's (NASDAQ:INTC) new Xeon Phi line of high-speed computer chips are being used in the world's fastest and most powerful supercomputer, China's Xianhe-2. Xianhe-2, which translates as MilkWay-2, was just named the world's most powerful computer on a list published twice a year ranking the world's top 500 supercomputers. Xianhe-2 offers more than double the performance of the top-rated supercomputer on the November 2012 list… (Read more.)
Groupon (NASDAQ:GRPN) is a hard stock to follow. It's up, it's down; it's on the point of collapse, it's booming. Which one is it, Groupon? While some are quick to capitalize on its recent success story — Deutsche Bank (NYSE:DB) recommended investors buy on Friday — others are more weary to jump back on the bandwagon… (Read more.)
Sprint Nextel Corp. (NYSE:S) is suing Dish Network (NASDAQ:DISH) to block Dish's rival bid for Clearwire (NASDAQ:CLWR). Sprint claims that Dish's offer breaks Delaware law and Sprint's investor agreements. Sprint and Dish have been battling to acquire Clearwire to take advantage of its wireless spectrum holdings.  Sprint is currently the number three wireless provider in the country, and it has been exploring various options to expand its network.
Dell (NASDAQ:DELL) will vote to determine whether shareholders should accept the offer made by company founder and Chief Executive Officer Michael Dell to take the company private for $24.4 billion in just one month. Set for July 18, it could be a close one if activist investor Carl Icahn of Icahn Enterprises (NASDAQ:IEP), who has a plan for the struggling personal computer manufacturer of his own, does not walk away from the proxy fight he started… (Read more.)
Ford (NYSE:F) has applied lessons it learned during the financial crisis to Europe, and from recent data, it seems that the strategy has paid off. Vehicle sales in Europe industry-wide are at a 20-year low, and, through April, when sales rebounded slightly, European auto sales were on an 18-month decline. But, paradoxically, Ford's share of the 19 traditional European grew ever so slightly in May… (Read more.)
Wall Street Bankers and Teenagers Share a Common Love: Snapchat: Have you ever been in public and seen a teenager taking a silly picture of his face with an Apple (NASDAQ:AAPL) iPhone — seemingly oblivious to the world around him? Then you've probably witnessed the makings of a snapchat, a picture sent to a user's friends that disappears within seconds after being opened and then can never be viewed again… (Read more.)
Don't Miss: Obama: Bernanke's Been Around Longer Than He Was Supposed To.