Vertex Regains Ground on These Pharma Stocks
Early this morning, Vertex Pharmaceuticals (NASDAQ:VRTX) popped more than 20% in early trading as IMS Health says it may have underestimated sales for Vertex's Incivek prescription drug. Mark Schoenebaum, an analyst at ISI Group said, "People are now thinking that maybe the trends weren't quite as flat as everybody was thinking."
As the chart below shows, Vertex Pharmaceuticals has been outperforming other pharmaceutical stocks for most of the year, until recently.
Investing Insights: Is This Commodity Staging a Comeback?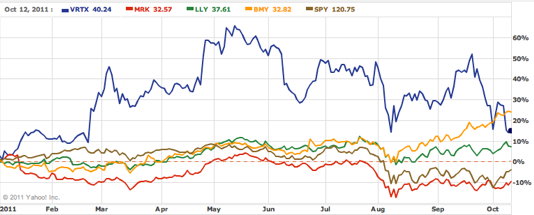 Shares of Vertex and Bristol-Myers Squibb (NYSE:BMY) have both increased about 24% year-to-date.  With the volatility (NYSE:VXX) seen in the markets over the past few weeks, strong 4% dividend payer Bristol-Myers Squibb, has held up better as Vertex does not currently pay a dividend. Other pharmaceutical dividend plays include Merck & Company (NYSE:MRK) and Eli Lilly and Co. (NYSE:LLY), which both pay about a 5% dividend. The recent announcement from IMS Health is helping Vertex shares regain ground on other pharmaceutical companies. Shares are currently up 7.28%.
Vertex's hepatitis C drug, Incivek, competes directly with Merck's (NYSE:MRK) Victrelis drug.  In fact, both prescription drugs were approved in May, only about ten days apart.  However, MedHelp reports that doctors are showing a preference for Incivek over Victrelis. RBC Captial expects investor sentiment to improve and maintains an Outperform rating on Vertex.
Don't Miss: Inside Apple's Upcoming Quarterly Earnings Release.