Visa Improves Advanced Authorization Tech and 2 Other Dow Movers to Watch
Visa Inc. (NYSE:V): Current price $192.09
At the Visa Global Security Summit, Visa announced a series of improvements to its Advanced Authorization tech that significantly enhance the ability of its global processing network to detect potential electronic payments fraud. Financial institutions may employ the data to more reliably discern which transactions to decline in real time, potentially lowering fraud by billions of dollars per year, while more confidently confirming legitimate transactions to remove friction from payments for both merchants and consumers.

The Travelers Cos. (NYSE:TRV): Current price $
On Wednesday, Travelers launched a new suite of online resources to aid business owners in navigating the increasing threat of cyber risks while also guarding their assets and their customers' data. The intro of the new resources coincides with the start of National Cyber Security Awareness month, which is observed every October to remind both companies and individuals to use the internet safely and securely. Travelers Cyber Security is a public portal that gives insights into the threats associated with cyber risks and how to effectively guard against them.
The tools include information on how to assess cyber exposures; cyber facts and FAQs, including a review of the most typical consumer protection laws; and a review of the various cyber-related coverages and products trimmed to the size and nature of a business.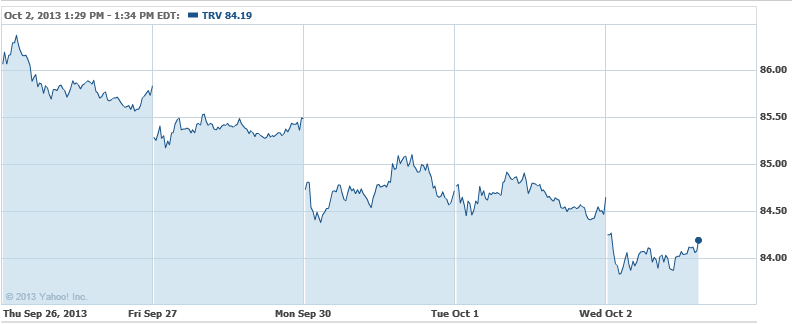 International Business Machines Corp. (NYSE: IBM): Current price $185.21
IBM has announced a collaborative research initiative with four Northeastern universities to promote the development and deployment of cognitive computing systems, such as IBM Watson, that can learn, reason, and help human experts make complex decisions concerning extraordinary volumes of fast-moving information.
Faculty at the four schools, which include Carnegie Mellon University, the Massachusetts Institute of Technology, New York University, and Rensselaer Polytechnic Institute, will evaluate enabling technologies and methods for building a new class of systems that better empower people to interact with Big Data in what IBM has identified as a "new era of computing."

Don't Miss: Gallup: Federal Employment Increased on Eve of Shutdown.