Vistaprint Earnings: Margins Rise with Revenues
Vistaprint Limited (NASDAQ:VPRT) reported higher profit for the third quarter as revenue showed growth. VistaPrint, Ltd. is a printing firm that targets its service to small businesses. It provides high-impact personalized products and services for small businesses and the home.
Don't Miss: Wall St. Cheat Sheet's newest Feature Trades of the Month!
Vistaprint Earnings Cheat Sheet for the Third Quarter
Results: Net income for Vistaprint Limited rose to $22.9 million (51 cents/share) vs. $16.2 million (35 cents/share) in the same quarter a year earlier. A rise of 41.8% from the year earlier quarter.
Revenue: Rose 22.7% to $203.7 million YoY.
Actual vs. Wall St. Expectations: VPRT beat the mean analyst estimate of 50 cents/share. Estimates ranged from 48 cents per share to 52 cents per share.
Quoting Management: "Vistaprint just completed a very strong third quarter," said Robert Keane, president and chief executive officer. "Earnings exceeded our expectations for three reasons: total revenue that was higher than our previous guidance, gross margin improvements that are the result of prior decisions to invest in manufacturing and procurement capabilities, and a delay in the timing of planned operating expenses."
Key Stats:
The company has enjoyed double-digit year-over-year revenue growth for the past five quarters. Over that span, the company has averaged growth of 22.4%, with the biggest boost coming in the third quarter of the last fiscal year when revenue rose 30.2% from the year earlier quarter.
Net income has increased 8.9% year over year on average across the last five quarters. The biggest gain came in the most recent quarter, when income climbed 41.8% from the year earlier quarter.
Gross margins grew 1.2 percentage points to 65.3%. The growth seemed to be driven by increased revenue, as the figure rose 22.7% from the year earlier quarter while costs rose 18.6%.
Competitors to Watch: R.R. Donnelley & Sons Co. (NASDAQ:RRD), Multi-Color Corporation (NASDAQ:LABL), InnerWorkings, Inc. (NASDAQ:INWK), Consolidated Graphics, Inc. (NYSE:CGX), Champion Industries, Inc. (NASDAQ:CHMP), Cenveo, Inc. (NYSE:CVO), Centro Grafico Cegrafico SA (AMEX:CGR), and Pitkit Printing Enterprises Ltd. (PITK).
Today's Performance: Shares of VPRT closed at 54.30, up 1.4% from the previous closing price of $53.55.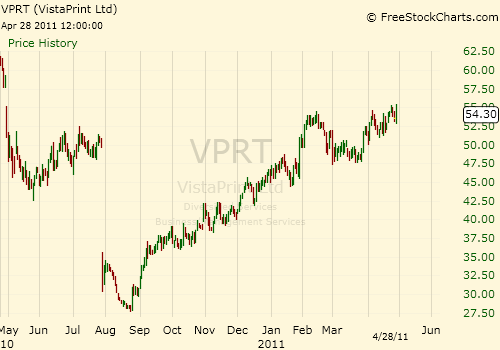 Don't Miss Wall St. Cheat Sheet's newest Feature Trades of the Month!