VMware Expects Q4 Upside and 3 Stock Analyses Turning Heads
Mistras Group, Inc. (NYSE:MG):Current price $21.19
Baird believes yesterday's pullback in Mistras Group, Inc.'s shares more than discounted the uncertain business conditions. The firm sees continued opportunity, but a slower than expected ramp with earnings being driven by margin improvements. Shares remain Outperform rated with a $26 price target.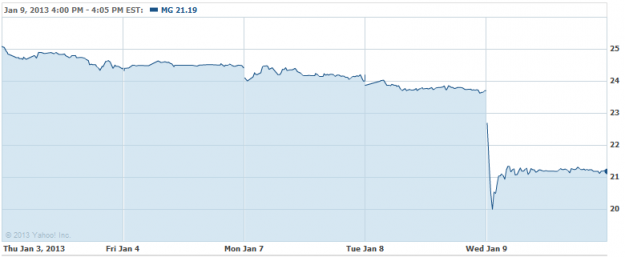 Hanmi Financial Corp. (NASDAQ:HAFC): Current price $15.26
After Hanmi Financial Corp. confirmed that they will consider selling themself, DA Davidson identified BBCN Bancorp (BBCN) and Wilshire Bancorp (NASDAQ:WIBC) as the most likely purchasers of Hanmi. The firm believes $18 per share will be about the middle of the expected price range for Hanmi. DA Davidson maintains a Buy rating on the company.

Start 2013 better than ever by saving time and making money with your Limited Time Offer for our highly-acclaimed Stock Picker Newsletter. Get our fresh Feature Stock Pick now!
VMware, Inc. (NYSE:VMW): Current price $95.75
Following channel checks that indicate improved execution and a strong finish to the year, Susquehanna raised their price target on VMware, Inc.  The firm noted their new licensing/suite structure is driving new product adoption and that the fourth quarter could have modest upside. Shares are Neutral rated.

Linkedin Corporation (NYSE:LNKD):Current price $115.45
Susquehanna said that LinkedIn Corporation's fundamentals remain healthy across all metrics and that they are tracking ahead of the fourth quarter Street revenue estimates. Shares are Positive rated with a $145 price target.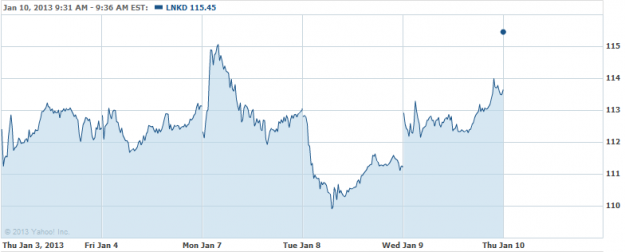 Don't Miss: Did Tim Cook Broker a China Mobile Deal?