Vodafone Mulls Bid for Kabel Deutschland and 3 Hot Stocks Changing Hands
Vodafone plc (NASDAQ:VOD): Current Price $26.72
UK-based Vodafone plc (NASDAQ:VOD) is said to be mulling a bid for German cable operator Kabel Deutschland, according to German publication Manager Magazin and reported by Reuters. Vodafone's German operations head proposed the buyout plan to the senior management of Kabel Deutschland and the move represents Vodafone's second foray into fixed line networks after its 2012 purchase of British fixed operator Cable and Wireless. Vodafone's operations are predominantly mobile in continental Europe and analysts have suggested it acquire cable assets to keep up with the competition.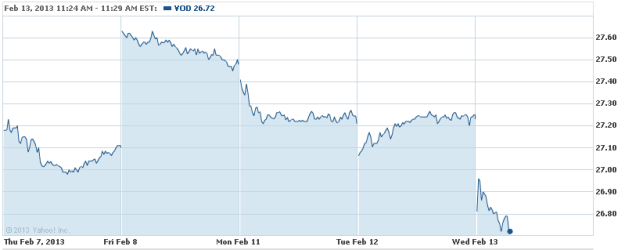 Carnival Cruise line (NYSE:CCL): Current Price $38.16
Carnival Cruise line (NYSE:CCL) President Gerry Cahill claims the company's stricken ship, the Carnival Triumph, now has running water and that most of its 23 public restrooms and a few of the guest cabin bathrooms are working. The ship, which lost all its power in an engine room fire, is currently under tow to a port in Mobile, Alabama. The statement is at odds with accounts from passengers that there was no running water and few operational toilets on the ship and that they were given plastic bags to use.
Are these stocks a buy or sell? Let us help you decide. Check out our Stock Picker Newsletter now.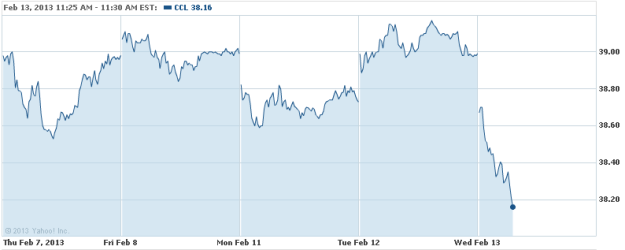 AOL Inc (NYSE:AOL): Current Price $37.22
AOL Inc (NYSE:AOL) acquires consumer electronics reviews dedicated site gdgt.com. Though the terms of the deal are not available, things got going when gdgt first worked with AOL-owned Engadget providing product data, and one thing led to another.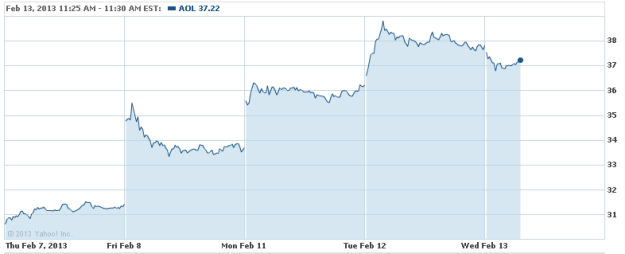 USAirways (NYSE:LCC): Current Price $14.40
According to Reuters, anti-trust regulators may demand certain concessions from USAirways (NYSE:LCC) and American Airlines before granting them the green signal for an $11 billion merger that is in the final laps of negotiation and could be announced later this week. The Justice Department may require the airlines to sell some routes such as those in USAirways hub at Washington and AMR's hub in Dallas, experts say. This would be the third major merger after those of Delta Airlines with Northwest, and UAL Corp's United Airlines with Continental Airlines. So far, regulators have viewed airline mergers with a tolerant eye, but analysts do not rule out some regulatory opposition to the current deal after major consolidations have resulted in a sharp drop in competition and left consumers with fewer flight choices.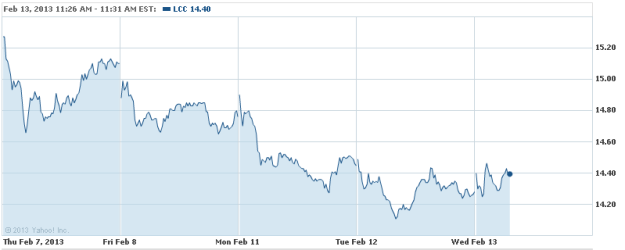 Don't Miss: Does Apple's iWatch Have Its Own Special Team?