Vodafone Takeover Chatter Spreads and 2 Hot Stocks to Watch
BGC Partners (NASDAQ:BGCP): BGC Partners saw the biggest rise since 2009 after the interdealer broker part-owned by Cantor Fitzgerald LP stated that it would sell its eSpeed bond unit, Bloomberg reported. BGC saw a rise of 40 percent to $5.39 at 9:46 a.m. in New York. In a statement, the company stated that it will sell the electronic Treasury trading platform to Nasdaq OMX Group (NASDAQ:NDAQ) for a total of $750 million in cash, or $1.2 billion should sales goals be met.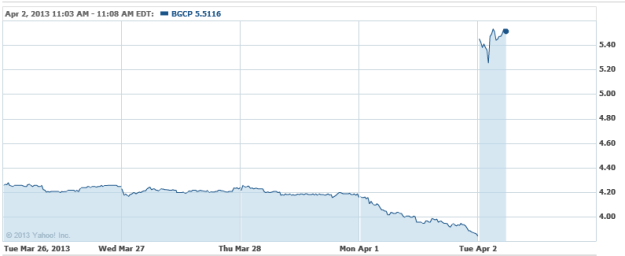 Ford Motor (NYSE:F): The company's U.S. sales saw a 6 percent increase during March because of record sales of its newly redesigned Fusion sedan and Escape SUV, Reuters reported. Escape sales saw a 28 percent boost, rising to almost 29,000 and Fusion sales increased 6 percent to 30,284. Ford stated that this was a monthly sales record for both vehicles. Both went on sale last fall. The F-Series pickup truck sales saw a 16 percent rise to 67,513 as contractors and other small businesses bought new trucks at a rapid pace.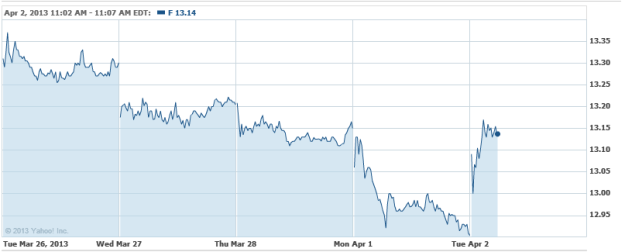 Vodafone Group (NASDAQ:VOD): The company saw a rise of about 6.1 percent in London trading after Financial Times reported that AT&T (NYSE:T) and Verizon Communications (NYSE:VZ) could possibly jointly bid for the British mobile-phone company. Verizon, which co-owns Verizon Wireless with Vodafone in the U.S., and AT&T have been working on putting together a breakup bid for Vodafone, according to the FT report.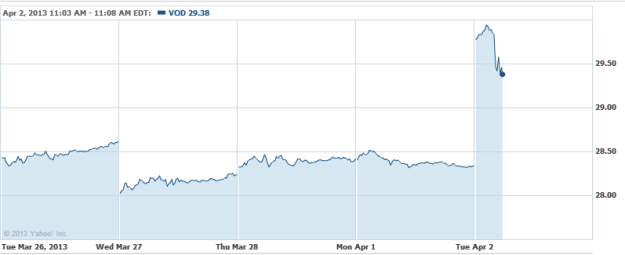 Don't Miss: Did Apple Miss This Fad on Purpose?