Vodafone to Pocket Verizon Wireless Payout and 2 Other Hot Stocks to Watch
Vodafone Group (NASDAQ:VOD): Current price $29.62
Bloomberg is reporting that Vodafone intends to retain a $3.19-billion dividend from Verizon Wireless, instead of returning it to shareholders, while it posted its first full-year revenue decline since 2005. Verizon said on Tuesday that it will use the third dividend since the partnership with Verizon Communications (NYSE:VZ) restarted payments in 2012, to fund wireless spectrum and its business. Revenue for the twelve months ending in March fell by 4.2 percent.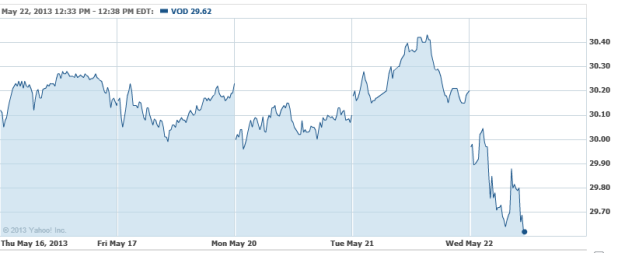 Staples (NASDAQ:SPLS) Current price $15.47
The company's first-quarter fiscal 2013 earnings took a hit from lower sales due to store closures, as the figure came in at 26 cents a share, short by one cent of the Zacks Consensus Estimate, and slipping by 7.1 percent year-over-year from 2012. Total sales fell by 3 percent during the same period to $5,814.6 million and missed the estimate of $5,951 million. The appreciated dollar and 97 store closures in North America and Europe in the past year impacted sales during the quarter, with gross profit sliding by 6 percent year-over-year to $1,511 million, while gross margin narrowed by around 60 basis points to 26 percent.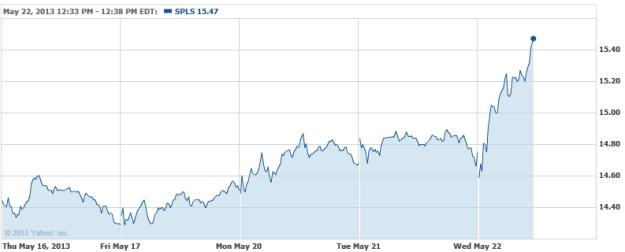 Yahoo! (NASDAQ:YHOO): Current price $27.01
David Karp may have been a high school leaver, but he has now joined the One Percent Club. On Monday, when news of Yahoo's acquisition of Karp's Tumblr broke, chatter on the Web had it that the 26-year-old entrepreneur would now be a billionaire, like the Facebook cofounders Mark Zuckerberg and Dustin Moskovitz. However, Ryan Mac at FORBES is reporting that the Tumblr founder is not a billionaire, as the publication estimates that after taxes Karp will be about 20 percent of the way to the $1 billion mark after the $1.1 billion deal. Before the acquisition discussions, the Tumblr chief executive held around a 25-percent stake in the blogging platform he created, and with the transaction being done almost all in cash, Karp will keep roughly $250 million in cash and a small amount of Yahoo stock.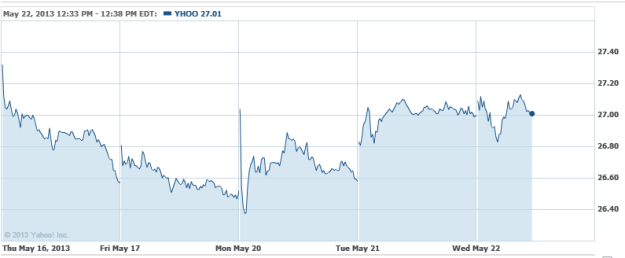 Investing Insights: Is Marissa Mayer a Winner?