Vodafone's Options After Verizon's Buyout and 3 Other Hot Stocks
Verizon Communications (NYSE:VZ): Analysts and investors are already discussing what Vodafone (NASDAQ:VOD) will do with the $100 billion (or more) cash pile that it would be sitting on in the event that Verizon buys out the 45 percent stake that Vodafone currently holds in the company. "What they should do is a dramatic rethinking of the business," a Bernstein analyst told Bloomberg. Merger and acquisition activity is highly likely, as the payment — if made in cash — would give Vodafone the second-largest cash hoard for a non-financial institution.

Abbott Laboratories (NYSE:ABT): Goldman Sachs has upgraded Abbott from Neutral to Buy, in light of positive growth trends. "We see Abbott developing into the fastest-growing large-cap company under coverage with the most potential for margin expansion," said Goldman Sachs's David Roman and Chris Hammond in a note. The firm also raised its price target from $38 to $44.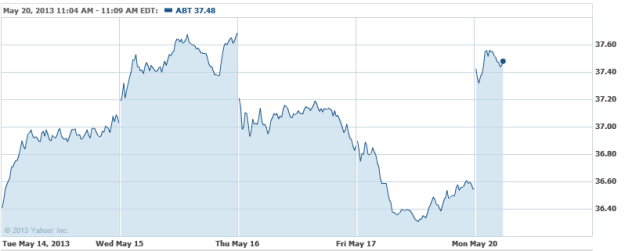 Qihoo 360 (NYSE:QIHU): Shares are surging after the company posted a narrow earnings beat, as well as a revenue beat that saw a 58.6 percent increase over the year prior. However, the real cause for celebration is the Q2 guidance that stated a projected revenue of $142 million to $144 million, a healthy $20 million or so over the consensus estimates of $121.5 million, indicating that monetization efforts are succeeding and growing at a rapid clip.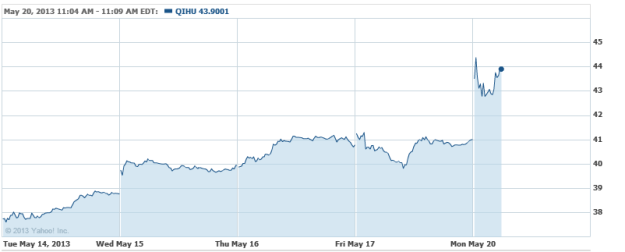 Morgan Stanley (NYSE:MS): Following Goldman Sach's lead, Morgan Stanley has announced that it will be selling of portions of its international stakes, as the company will be selling off its India wealth management assets to Standard Charter, for an undisclosed sum. The parties expect the sale to be completed by the end of 2013. Slowing economic growth was cited as Stanley's reason for selling.

Don't Miss: Can Microsoft's Next XBox Be More Than a Game Console?