Vulcan Materials Company Earnings: Loss Widens
S&P 500 (NYSE:SPY) component Vulcan Materials Company (NYSE:VMC) reported its results for the first quarter. Vulcan Materials Company is a producer of mainly crushed stone, sand and gravel, asphalt mix and concrete and cement.
Don't Miss: Wall St. Cheat Sheet's newest Feature Trades of the Month!
Vulcan Materials Company Earnings Cheat Sheet for the First Quarter
Results: Loss widened to $54.7 million (42 cents/diluted share) from $38.7 million.
Revenue: Fell 1.2% to $487.2 million YoY.
Actual vs. Wall St. Expectations: VMC beat the mean analyst estimate of a loss of 49 cents/share. Estimates ranged from a loss of 31 cents per share to a loss of 68 cents per share.
Quoting Management: Don James, Vulcan's Chairman and Chief Executive Officer, stated, "We are pleased with the improvements in first quarter production efficiencies in our aggregates business which offset most of the earnings effects of sharply higher diesel fuel costs. We are also encouraged with the pricing momentum in both our asphalt and concrete businesses. Shipments in all our businesses remained challenged in the first quarter. After a solid start in January and February, extremely wet weather hampered aggregates, asphalt and concrete shipments in March in many of our key markets. We continue to expect volume and earnings growth for the full year in 2011."
Key Stats:
Over the last five quarters, revenue has fallen an average of 4.4% year over year. The biggest drop came in the first quarter of the last fiscal year, when revenue fell 17.8% from the year earlier quarter.
Competitors to Watch: Martin Marietta Materials, Inc. (NYSE:MLM), Lafarge S.A. (LFRGY), Texas Industries, Inc. (NYSE:TXI), Eagle Materials, Inc. (NYSE:EXP), CRH PLC (NYSE:CRH), Salbookh Trading Co. K.S.C.C (SALBOOKH), Dolnoslaskie Surowce Skalne SA (DSS), Forward Investment & Deve. Ente. Ltd (FIDE), and United Basalt Products Ltd. (NYSE:UBP)
Stock Performance: Shares of VMC are trading at $44.20, unchanged from the previous close.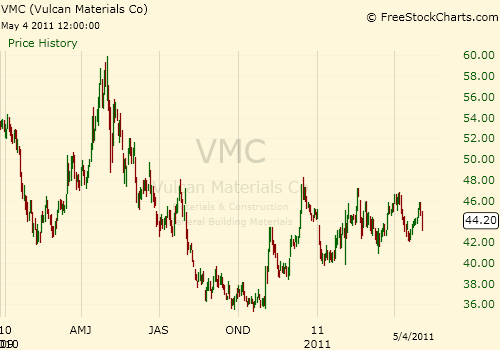 Don't Miss Wall St. Cheat Sheet's newest Feature Trades of the Month!