Waffle Tacos Add Ridiculous Twist to Breakfast Battles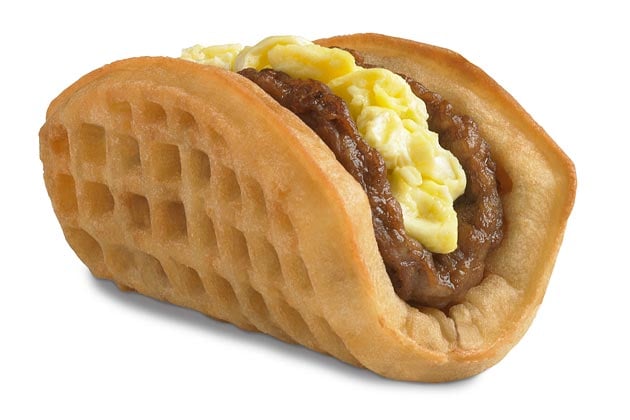 Taco Bell (NYSE:YUM) is upping the breakfast ante by testing a new menu item as ridiculous as the Doritos Locos Taco: the Waffle Taco. The Waffle Taco is exactly what it sounds — a waffle folded like a taco and filled with scrambled eggs and sausage. The fast-food breakfast industry is heating up like a skillet and Taco Bell is gearing up to try to seize market share from more established breakfast restaurants. Taco Bell is a subsidiary of fast-food giant Yum! Brands, Inc. (NYSE:YUM), which also owns Pizza Hut and KFC.
Business Week reports that the Waffle Taco is undergoing consumer testing at several Taco Bell locations in Southern California and has to perform well before it can be introduced to menus across the U.S. The Waffle Taco's 89 cent price does not hurt; neither does the Taco Waffle's menu support from the other breakfast items Taco Bell added to the menus of 750 stores in January 2012. Breakfast is a huge, profitable market for restaurants and Yum! Brands is not going to let something as simple as the fact that Taco Bell's menu is filled with various tacos stop it from capturing a slice of the pie. If Yum! Brands can figure out a successful breakfast strategy, it is not a stretch to see Pizza Hut serving and possibly even delivering breakfast in the future.
Burger King (NYSE:BKW), Wendy's (NYSE:WEN) and McDonald's Corp (NYSE:MCD) have all made or plan to make adjustments to their breakfast business models. Burger King changed its coffee to Seattle's Best (NASDAQ:SBUX). Wendy's is backing more of its restaurants out of the breakfast market by reducing their hours to lunch and dinner. Finally, McDonald's is talking about finally serving breakfast all day – a move that shows it feels confident enough in its breakfast to gamble customers will welcome it during dinner or lunch hours.
Yum! Brand's stock price grew steadily from January 2009 until April 2012. In fact, Yum! Brands stock more than doubled between January 2012 and May 2013 (it is currently trading at around $70). The past 12 months have seen the company's stock price see-sawing between around $65 and $70. Success making Taco Bell a strong competitor in the fast-food breakfast market — when commuters clog the streets going to work or school — could help push Yum! Brand's stock price higher than its "FourthMeal" late night customers.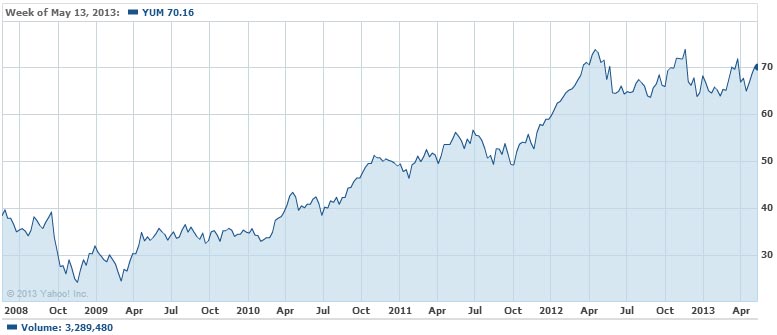 Image Courtesy of Yahoo! Finance
Don't Miss: Is McDonald's Planning to Streamline Its Menu?