Wal-Mart and Amazon Battle Over Same-Day Delivery and 2 More Dow Movers to Watch
Wal-Mart Stores (NYSE:WMT): Current price $77.83
Austin Smith at Motley Fool analyzes the most recent scrimmage between Amazon.com (NASDAQ: AMZN) and Wal-Mart, as currently both firms offer same-day delivery and pickup lockers. Observers may wonder if this gives Wal-Mart a clear advantage, but Smith says that customer demographics and purchasing habits are quite different between the two firms, and Wal-Mart still has the brick-and-mortar overhead that Amazon does not. Further, he notes that Wal-Mart has matched the services Amazon offers, but it hss yet to win an obvious victory.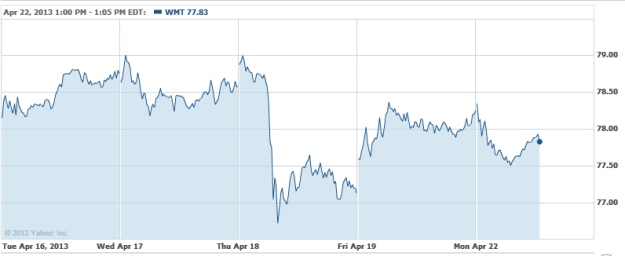 Verizon Communications (NYSE:VZ): Current price $52.12
Verizon's signup page for Samsung's new Galaxy S4, is now live, but there is still no final release date or price for the product. Earlier, Verizon tweeted that the Galaxy S4 would be available in May, but the Verizon sign up page will alert potential customers by email once the Galaxy S4 becomes available. Steve Kovach of  Business Insider says that Verizon is the last of the four top domestic carriers to offer any word on when the Galaxy S4 will be ready for sale.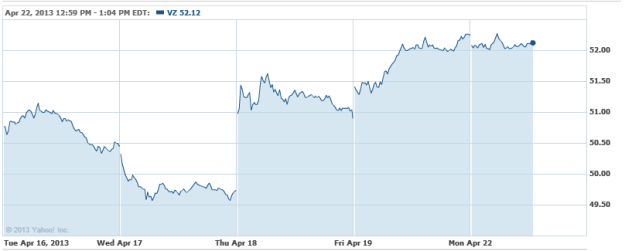 JPMorgan Chase & Co. (NYSE:JPM): Current price $47.18
A number of the largest international commercial banks, including J.P.Morgan,  Citigroup, and HSBC Holdings, are cutting back certain activities in some fast-growing markets in Asia and the Middle East, as they are more cautious in regards to increasing anti-money laundering scrutiny in those regions.

Don't Miss: Wal-Mart and Home Depot Get Caught Up in U.S. Bomb Scares.