Wal-Mart Blames Tech Glitch for Temporary Weird Prices and 2 Other Dow Movers to Watch
Wal-Mart Stores Inc. (NYSE:WMT): Current price $78.08
Earlier Wednesday, several products at Wal-Mart surprised and probably delighted (or, shocked) online shoppers with absurdly low or high prices. The retailer says that a "technical error" was responsible, and that it is working to solve the problem, but that the site could have intermittent errors with availability until that time. A company spokesman would not comment on whether Wal-Mart honor those bargains, as it still works through the details.

Pfizer Inc. (NYSE:PFE): Current price $30.97
Former President Jimmy Carter joined Pfizer Wednesday to help commemorate the 15th anniversary of the International Trachoma Initiative, an independent, not-for-profit program focused upon the elimination of blinding trachoma as a public health worry. Trachoma is an infectious eye disease that is a top cause of blindness and suffering in the poorest regions of the planet. Pfizer has provided hundreds of millions of doses of the antibiotic Zithromax (azithromycin) to help the global campaign eliminate blinding trachoma by the year 2020.

General Electric Co. (NYSE:GE): Current price $26.86
General Electric and Sasol Ltd. are working jointly on a water-tech pilot project that will clean wastewater from facilities that produce synthetic fuels and chemicals and supply biogas as a byproduct for power generation. The anaerobic membrane tech will be developed at a new demonstration plant at Sasol's research campus in Sasolburg in Free State province of South Africa, said a Wednesday statement that did not divulge terms.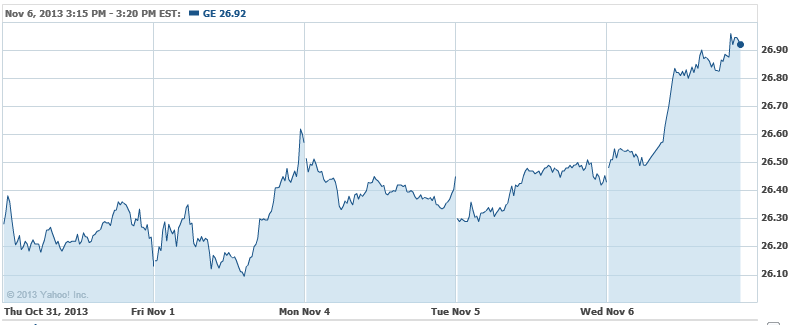 Don't Miss: 3 Things Burger King Does Exactly Like McDonald's.