Wal-Mart Brightens Up and Offers LED Bulbs Under $10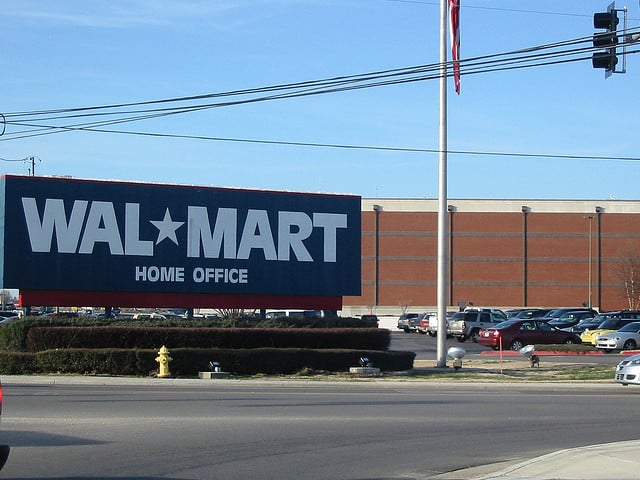 Wal-Mart Stores (NYSE:WMT) is reportedly going (more) green.
According to Forbes, the retail giant announced Wednesday that its Great Value line of super efficient LED light bulbs will now debut in its U.S. stores and online for less than $10. That marks a significant decline from the bulbs' original price point, and it reflects Wal-Mart's commitment to its partnership with General Electric (NYSE:GE) that has it focusing on GE lighting technology to boost the efficiency of its stores themselves. Additionally, it helps transform the lighting markets for commercial applications.
Wal-Mart's Great Value line now offers 26 different types of bulbs with the lowest, non-dimmable 60-watt equivalent going for $8.88. The LEDs help the environment considerably as, according to Forbes, they last 25 times longer while only consuming about 20 percent of the energy. However, their higher price tags have kept many consumers from committing to the cause, and that is what Wal-Mart is now working to change. Even the bulbs not included in the Great Value line will see a price drop.
John Strainic, GE's consumer lighting general manager, asserted his approval of Wal-Mart's new initiative Wednesday, explaining in a press release, "We've taken the good collaboration we've made with Walmart to increase the efficiency of their facilities, and are beginning to make the same inroads in the customer lighting aisle."
Wal-Mart is also not the only big-name retailer which has recently published its efforts to contribute to the mainstreaming and price reduction of energy-efficient bulbs. Forbes reports that Home Depot (NYSE:HD) and IKEA also have, too, and while that is significant news for the LED industry in general, Barron's highlights that it might not bode as well for LED lighting specialists like Cree (NASDAQ:CREE).
Piper Jaffray's Jagadish Iyer pointed to the Wal-Mart announcement in his analyst note Wednesday, highlighting it as a mixed blessing: "While this announcement certainly bodes well for the overall LED industry and reinforces the secular growth in LED lighting, we ought to highlight that at a $10 price point we see a big squeeze on profitability at least initially for the OEMs as we have highlighted in the case of Cree where we think its light bulbs currently carry negative gross margins."
It is true that Wal-Mart has not named a supplier and could order from companies other than Cree, but regardless of the supplier, Iyer predicts a profit squeeze on that party. He maintains: "We do believe any supplier of LED bulbs to Walmart is likely to suffer a profitability squeeze and view that Cree remains one of the lowest cost bulb makers given their vertical integration. We also believe any other non Tier 1 suppliers who are likely to be suppliers are likely to face a tall order in order to improve their profitability at the expense of quality and Energy Star compliance."
Thus, not all will likely benefit from Wal-Mart's new plans, but with the changing landscape of energy use and the increased public commitment to helping the environment, suppliers may need to find ways to respond in order to adequately support the change.
Don't Miss: Will Potbelly Join the Pantheon of Great American Restaurant Chains?