Wal-Mart Celebrates 'Saluting Heroes Together' and 2 Other Dow Movers to Watch
Wal-Mart Stores (NYSE:WMT): Current price $77.00
On Memorial Day weekend, Wal-Mart and Sam's Club will commemorate the start of their commitment to hire 100,000 veterans during the next five years on the occasion of its Saluting Heroes Together event with Operation Homefront. This event forms part of a nationwide series to help honor the brave men and women who have or are presently serving in the United States military and their families. The event will take place on Saturday, May 25, from 11 a.m. to 2 p.m. at the Walmart supercenter located at 8923 W. Military Road in San Antonio.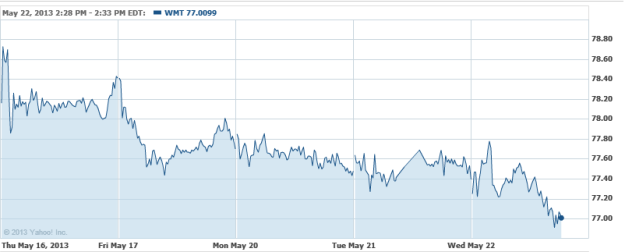 AT&T (NYSE:T): Current price $36.69
PCWorld/TechHive have ranked the AT&T 4-gigabyte LTE network the fastest for a second straight year. The tests in 20 domestic markets demonstrate that AT&T wireless customers are enjoying 'blazing-fast' wireless Internet speeds. Further, AT&T outstripped the competition in  PCWorld/TechHive's 2012 wireless Internet speed tests, as it delivered quicker download speeds than any other national carrier in the 13 cities that were  tested.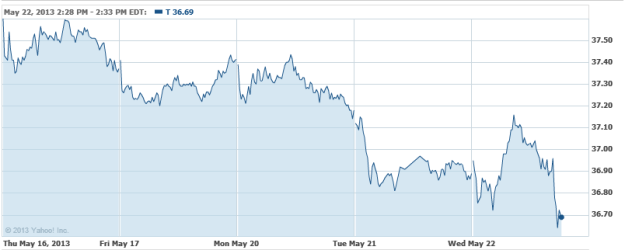 General Electric Company (NYSE:GE): Current price $24.03
GE's tech division GE Global Research announced Wednesday that it has been awarded a prestigious Manufacturing Leadership 100 award in honor of its work to build a new, cloud-based, software platform that permits a worldwide community of experts to share ideas, design, and build complex cyber-physical systems securely on the Internet. GE researchers Joseph Salvo, Thomas Citriniti, and Benjamin Beckmann accepted the award on behalf of the firm during last week's Manufacturing Leadership Summit in Palm Beach.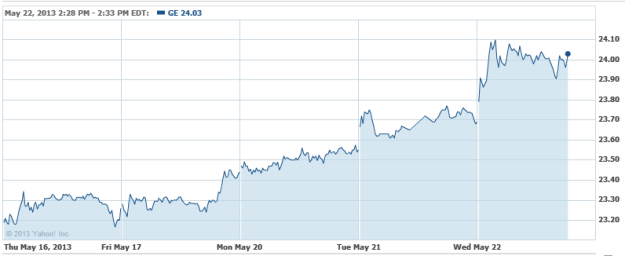 Investing Insights: Is Wal-Mart Still a Steady Winner?