Wal-Mart Disappoints with Shopping Season Forecast and 2 Other Dow Movers to Watch
Wal-Mart Stores Inc. (NYSE:WMT): Current price $79.19
Wal-Mart on Thursday forecast a disappointing profit for the holiday season after posting its third consecutive quarterly decline in domestic comparable sales due to lower store traffic. The company said that comparable sales at its United States stores, its biggest division, fell by 0.3 percent in the third quarter ended October 31, partly because of price reductions on TVs and weak sales of toys and packaged foods. Consensus had been for flat comparable sales, which include those online and at stores open a minimum of a year. Business was also down more than expected at the Sam's Club chain and in key markets such as Canada and Mexico, but the retailer's e-commerce operation and small-format stores performed better.

JPMorgan Chase & Co. (NYSE:JPM): Current price $54.25
According to a Thursday report by The New York Times, JPMorgan paid $1.8 million over a two-year period to a small consulting company run by the daughter of former Chinese Premier Wen Jiabao, a relationship that is now a part of a broader United States probe into the abnk's hiring practices in that region. Citing documents, public filings, and interviews, the Times also said that JPMorgan had a $75,000-per-month contract with the consulting company run by Lily Chang, which seems to have only one other employee. According to the newspaper, Chang is the alias of Wen Ruchun, the only daughter of Wen Jiabao, who in his capacity as premier had oversight of financial institutions at the time of the contract. Federal authorities are probing whether the bank improperly awarded jobs to well-connected people in Asia to obtain business.
Chevron Corp. (NYSE:CVX): Current price $119.53
Chevron announced Thursday that it has contributed $1.5 million to the American Red Cross to supply disaster relief  assistance to communities in the Philippines impacted by Typhoon Haiyan. Chevron Vice President of policy, government, and public affairs Steve Green said in a press release: "Chevron is committed to helping the people of the region begin to  recover in the aftermath of this tragic event. While Typhoon Haiyan has inflicted great damage to many local communities, we  are certain that it will not break the spirit or resolve of the  Philippine people."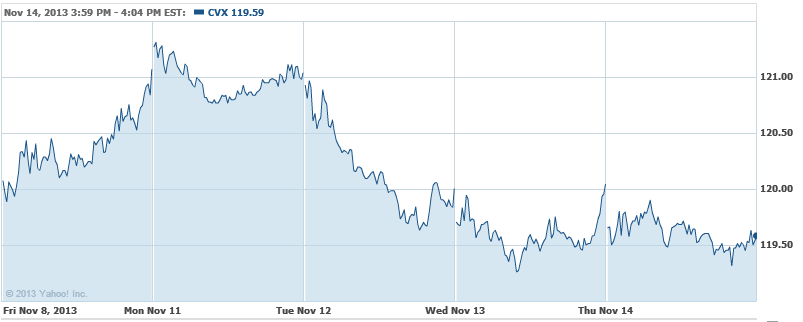 Don't Miss: Wal-Mart Warned Us: Weak Consumers Mean Weak Sales.