Wal-Mart Expansion Blues Are Growing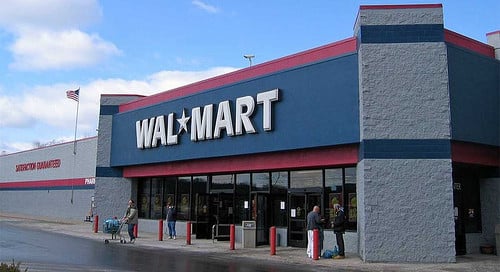 Wal-Mart Stores Inc. (NYSE:WMT) may be the world's largest retailer, but that doesn't mean it's warmly received in every country. India, especially, has proven to be a challenge for the retail giant, as Wal-Mart had to lobby for almost six years before global supermarket operators were given the go-ahead last September to set up 51 percent-owned retail outlets there.
But Wal-Mart has failed to make the progress it forecasted: it planned to open eight wholesale stores in India in 2013 but hasn't opened one since October. And now, the head of its India company, Raj Jain, has left. 
Despite its rank as Asia's third-largest economy, India continues to be one of the last major untapped markets for global supermarket chains, highlighted by this statistic from Reuters: 90 percent of India's $500 billion in retail sales come from informal or stand-alone stores. So if Wal-Mart can't manage to tap in, who can?
Despite India's September decision in allowing global operations to set up retail outlets, no international chain has yet applied for the license that the ever-evolving rules demand. Though other global supermarket chains like Tesco PLC (NASDAQ:TESO) and Carrefour SA are undoubtedly anxious to break into the market, the regulations seem insurmountable, especially since recent rules mandate foreign supermarkets to open their own warehouses and stores in India.
It is then clear that the odds are indeed against the global supermarket chains, and the new regulations are so daunting that Wal-Mart's Jain has, in effect, given up, leaving the company in a very quiet exit. His departure could have even gone unnoticed, but Wal-Mart named Ramnik Narsey as interim head of the India business on Wednesday, leaving speculators to wonder where Jain came into play.
Jain, an executive at Wal-Mart since joining in 2006 and promoted to head of its India unit the following year, couldn't be reached for comment, but many are not surprised about the departure. The setbacks Wal-Mart encountered with its India joint venture partner, Bharti Enterprises, are the reasons the former chief left. Harminder Sahni, managing director at Gurgaon-based retail consultancy Wazir Advisors, said to Reuters: "I am not surprised. Their biggest agenda was to get multi-brand retail clarifications in a manner that is conducive. That has not come about."
So does this mark the end for Wal-Mart's India venture? Not according to Scott Price, chief executive officer for Wal-Mart Asia, who asserts that the company looks forward to excelling under Narsey's leadership. But only time will tell if Wal-Mart will be able to comply with Indian regulation and realize success; the company is already facing an Indian investigation into whether it defied rules when negotiating its $100 million investment in a consultancy firm.