Wal-Mart Faces New Red Tape in India and 2 Other Dow Movers to Watch
Wal-Mart Stores Inc. (NYSE:WMT): Current price $76.65
Wal-Mart scored a win last September when the Indian government said it would permit overseas supermarket chains to take majority ownership of their Indian operations. However, red tape and graft are now delaying applications for its first retail store license until March 2015 at the earliest. After that, it needs another 12 to 18 months subsequent to earning government approval to open each store. Beyond that, Wal-Mart sources said its local partner, Bharti Enterprises, is rethinking its commitment to their joint venture due to the heavy investment requirement and far-off prospects for returns.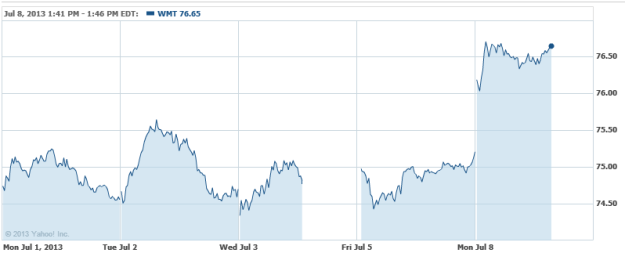 American Express Co. (NYSE:AXP): Current price $77.24
An online shop called The Fancy raised $53 million from investors like American Express Co.,  billionaire Len Blavatnik, and actor Will Smith, inside sources told Bloomberg. The funding round was unveiled last week in a filing that did not name the investors and values the company at $600 million. The financing will help the expansion of the firm, which sells items like light-up shower heads and alcohol flasks that have cigar storage.

Coca-Cola Co. (NYSE:KO): Current price $40.51
According to The Financial Times, Coca-Cola will introduce smaller and slimmer versions of its Coke, Diet Coke, and Coke Zero brands of soft drink cans in United Kingdom later in July. The containers will be 250 ml cans that will contain 105 calories versus 139 calories in the larger 330 ml cans. The new cans will be priced at the same rate per 100 ml as their bigger counterparts.

Don't Miss: Did D.C. Bait and Switch Wal-Mart on Wages?