Wal-Mart Gets a Buzz by Offering the Lowest Beer Prices in Town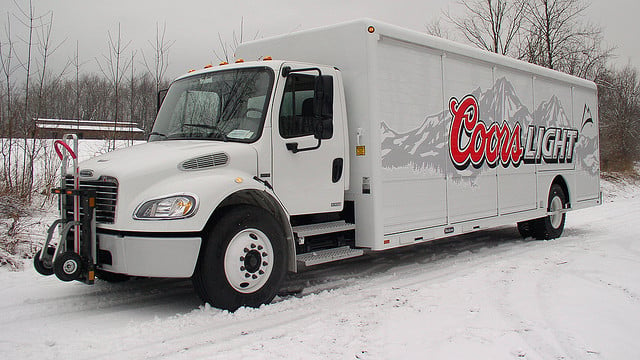 Back in August, we learned that Wal-Mart Stores (NYSE:WMT) was implementing new strategies to help drive its beer business, and now, the Bentonville, Arkansas-based company is brewing up more news. Wal-Mart might be the world's largest retailer, but it's not yet the world's largest beer seller, and that's a reality it'd like to change.
But how can the company convince beer drinkers to bypass the bars and instead visit their local Wal-Mart stores for their buzzes? Offer the best prices in town, of course — and that's what Wal-Mart is doing. According to Bloomberg,  the retailer now sells Anheuser Busch's (NYSE:BUD) Budweiser, Molson Coors's (NYSE:TAP) Coors, and other brews at some of its stores at almost no markup, a pricing strategy that is almost unheard of for big-name retailers, but has successfully driven sudsy sales for Wal-Mart.
While pricing varies at the company's many locations, its beer industry is maintaining progress — and that means continuing low prices for consumers, especially because Wal-Mart reportedly wants to double its alcohol sales by 2016. It's little wonder that the company wants to increase its presence in the $45-billion U.S. beer industry, but Sam Walton's known denunciation of excessive drinking along with the Wal-Mart's family brand name has surprised consumers that it has made such moves to push its beer sales.
When they say pushing sales, they don't only mean positioning Wal-Mart's beer offerings front and center in its superstores. They also mean offering prices that consumers can't refuse. The report that Bloomberg published Monday highlights the markup difference between beverage products at a select Wal-Mart in Los Angeles.
While the retailer sells its Coca-Cola (NYSE:KO) products 29.9 percent above cost at that location, its beer beverages' markup is less than 1 percent, and that reflects a key in Wal-Mart's alcohol strategy. To put it in perspective: the markup on a 36-pack of Coors Light is 0.6 percent, on a package of Flaming Hot Cheetos is 16.2 percent, and on a box of Quaker (NYSE:KWR) Quick Oats is 32.5 percent. It is almost counter-intuitive, but the strategy is working for Wal-Mart, and that's why analysts don't expect the new trend to change.
At least that's what Wal-Mart told alcohol industry representatives at its Adult Beverage Summit in Bentonville last fall. The high profile event is when many big names in the industry learned just how serious the retailer was about increasing its share in the beer market, and so far, many of the promises Wal-Mart made at that event have continued to ring true. Already, the company's alcohol buyers have doubled to 12, and more and more alcohol beverages are getting added to its catalogue. Wal-Mart can't offer beer deals and discounts at all of its locations due to state regulations, but it is doing the best it can to make its alcohol offering look the most alluring it can, and so far, it's working.
Don't Miss: More Dreamliner Problems Don't Concern Boeing's Customers.