Wal-Mart Is in the Doghouse for Worker Safety Conditions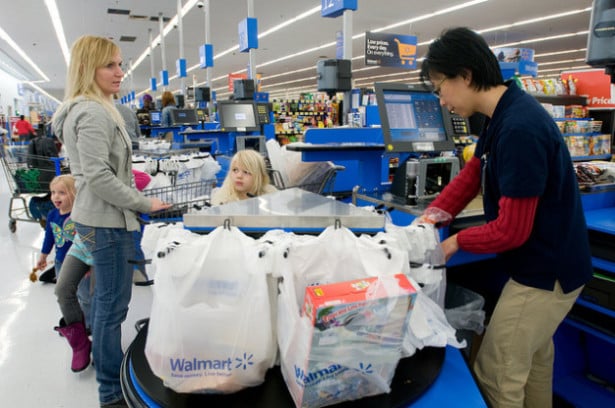 The Occupational Safety and Health Administration isn't happy about worker safety conditions at more than 2,800 Wal-Mart (NYSE:WMT) stores. And now, as part of a settlement with the U.S. Labor Department, the retailer has agreed to pay a fine while promising to clean its act up.
According to The Associated Press, Wal-Mart agreed to the settlement Wednesday after OSHA found that the company's safety conditions involving the use of its trash compactors and cleaning chemicals were not meeting federal standards. This hazardous equipment led to an agreement that affects 2,857 Wal-Mart and Sam's Club stores in the 28 states that must meet OSHA standards. The retail giant also operates outlets in 22 other states, but it runs its own OSHA inspection programs, and it is not yet clear what the agreements will involve.
Those 2,800-plus stores affected by the settlement have agreed to reform their employee training programs to ensure that the hazardous equipment and toxic cleaning chemicals that employees are exposed to are being handled properly.
In addition, a store in Rochester, New York, will also pay a $190,000 fine that is required to fix the hazards that the OSHA found upon inspection of the facility, The Associated Press reports.
Unfortunately for Wal-Mart, these newly published OSHA violations are about the last thing it needs its already disgruntled workforce to hear about. The retail giant has been combatting issues all summer that involve the wage levels of its employees and its relationship with unions, and this latest report of employee danger could just be the last straw.
Though Wal-Mart has long dealt with union-backed groups like OUR Wal-Mart and other labor organizations, the wage conflict bubble has all but popped this summer as more employees continue to walk out on jobs, unions gather at the company's annual shareholders meeting, and lawmakers start to introduce legislation that could put an end to the drama.
Even though the retail giant has stood its ground and threatened to cancel construction of stores in new areas if lawmakers agree to sign the bills, it doesn't look as though Wal-Mart's wage war is going to fix itself anytime soon — and the last thing the retail giant needs is more enemies.
These latest reports of employee danger only support workers' complaints about their employer, so if Wal-Mart isn't careful, it could inadvertently have a hand in its own destruction.
Don't Miss: Are Restaurants Still Recovering from the Great Recession?