Wal-Mart Is Not Happy with the Economic Recovery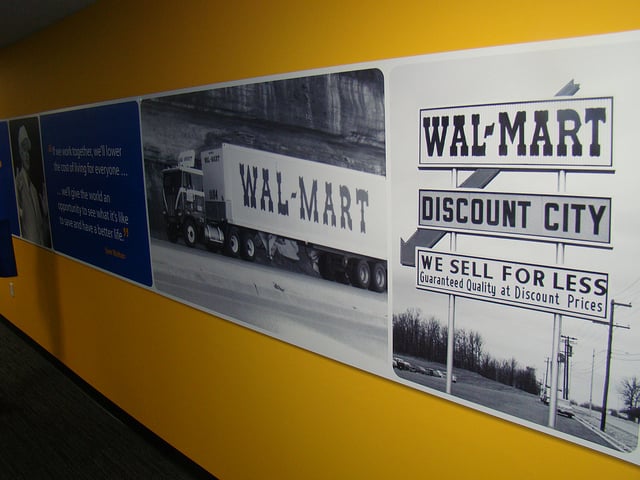 "There are areas of our business where we can do a better job, and we will," Wal-Mart (NYSE:WMT) CEO Mike Duke said in the company's second-quarter earnings press release. "I'm confident in our associates' abilities to deliver for our customers with [everyday low prices] and for shareholders with improved expense savings."
Sales at stores open for at least one year dropped 0.3 percent in the United States, the company's largest region of operations, during the three-month period, while Wall Street was expecting sales to rise 1 percent. The decline in sales came, in part, as a result of the 0.5 percent drop in the number of visits from U.S. customers, who are struggling after the hit of January's payroll tax hike and the ongoing shaky labor market recovery. Even worse, the discount retailer expects there to be little improvement in the current quarter, despite the approach of the important back-to-school shopping season.
Earnings were not much better abroad. International sales increased 2.9 percent, but that increase was not enough to boost the division's operating profit. Wal-Mart said it must control costs in many of its foreign markets including Mexico, China, India, Canada, and Britain.
Revenue increased 2.4 percent to $116.2 billion in the quarter ended July 31, well below the $118.47 billion analysts expected. During that period, Wal-Mart earned $4.07 billion, or $1.24 per share, a slight increase from the $4.02 billion, or $1.18 per share, its operations generated in the year-ago quarter. Excluding non-income tax items, earnings came in at $1.25 per share, a figure that met Wall Street's forecast. The retailer generates more than half of its revenue from groceries, and the company blamed the drop in comparable sales on lower on lower-than-expected food inflation.
While the company's Sam's Club chain saw sales rise 1.7 percent, that same-store sales figure lagged behind those of rival Costco (NASDAQ:COST). Edward Jones analyst Brian Yarbrough told Reuters that the company was finding it difficult to keep its market share from being chipped away by supermarket chains and dollar stores. "That low-income customer is really struggling now, and that's hitting Walmart," he said. "Kroger (NYSE:KR) is giving better deals than it did, and they're competing better against Walmart now."
Following the tough second quarter, Wal-Mart lowered its guidance. Net sales are now expected to rise between 2 percent and 3 percent in 2013, down from the 5 to 6 percent gain that was forecast earlier in the year, while profit expectations fell 10 cents to a range of $5.10 to $5.30 per share.
"The retail environment was challenging across all of our markets," Duke said during Wal-Mart's earnings conference call with analysts. With Americans shopping cautiously, keeping purchases to immediate necessities, Wal-Mart's second-quarter earnings provided economists with a gloomy insight into the state of the nation's economy.
Alongside Wal-Mart, many retailers have reported weaker-than-expected same-store sales for July, as they have had to resort to sales and discounts to attract shoppers who are spending less. Even Wal-Mart has lowered its prices to sharpen its low-price edge to win shoppers.
Because Wal-Mart generates about 70 percent of its revenue from sales in the United States, decreased earnings power in its key customer base — lower-income Americans — had a significant effect on its bottom line. Even before the payroll tax fell back to its pre-2008 level in January, the company's sales were subject to a payroll cycle, in which sales rose when paychecks were issued and subsequently shrunk over the course of the two-week pay period.
That trend characterized the company's business throughout 2012. Spending is a function of income, and most companies have refused to increase wages significantly. According to the Bureau of Labor Statistics, average hourly earnings for workers in the private sector have risen just 1.9 percent in the past 12 months.
Follow Meghan on Twitter @MFoley_WSCS