Wal-Mart Is Searching for the Retailer's Holy Grail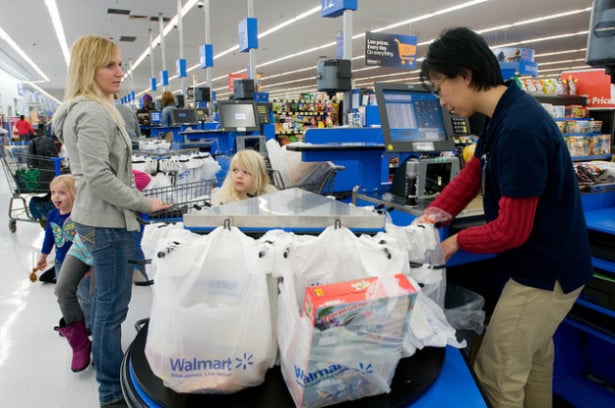 "We're starting to gain traction," Wal-Mart (NYSE:WMT) CEO Mike Duke noted during the company's annual meeting in early June, regarding its e-commerce expansion efforts. "I say 'starting' because we know that it's an area we still have a long ways to go," he added.
Online sales increased 16 percent in the United States to $224.3 billion in the last fiscal year, but at Wal-Mart, e-commerce sales are expected to hit just $10 billion this year, which will represent about 2 percent of the $469 billion in sales generated in fiscal 2013. E-commerce is still just a "rounding error in the U.S. market," one former executive told The Wall Street Journal last month.
The problem for Wal-Mart is twofold. First, Amazon (NASDAQ:AMZN), the original Internet retail giant, has become the clear leader in online sales with the help of more than 40 warehouses sprinkled across the United States — some that even employ robotic assistants to speed orders to homes. In addition, Wal-Mart has had difficulties making good on the promise to become an online force that it has made repeatedly over the past decade because of its leadership.
Former company executives told the Journal that part of the retailer's problem was an internal disagreement. They described a culture clash between revenue-focused online engineers at the company's office in California and profit-drive logisticians in Arkansas, which caused Wal-Mart to be late to invest in Internet distribution.
Speaking at Fortune's Brainstorm Tech conference in Aspen, Colorado, on Tuesday morning, company Chief Information Officer Karenann Terrell and CEO of Global e-Commerce Neil Ashe explained how Wal-Mart was working to bring the scale of its core business to its e-commerce division in California and bring Internet and mobile technology the company is developing in San Bruno to its main headquarters in Bentonville, Arkansas. Of course, bringing the company's e-commerce business up to speed is the company's primary focus.
Without a doubt, scale is a key asset for Wal-Mart. The company reported $469 billion in revenue for the last fiscal year, it operates approximately 10,000 stores worldwide, and it records 240 million customer transactions per week on average. But that is not enough. Ashe began his interview with CNN Money by saying, "We talk about Wal-Mart as the world's largest retailer, but we also are, and want to be known as, one of the world's largest, fast-growing, and most dynamic e-commerce organizations."
To create the best-in-class e-commerce system that Wal-Mart wants, Ashe said the company was going to "build that customer experience that uniquely ties together mobile, online, and the stores in way away that no one else can do." The necessary technological capabilities are just one step. Wal-Mart has already become a leader in using technology to manage logistics, which, in turn, have enabled the retailer to develop its notorious scale.
"Only we can marry this [technology] with the assets of the world's largest retailer," Ashe told CNN Money, noting that only after this marriage takes place will the company be able to "create a truly new vision" for commerce. An e-commerce platform should not be thought of as the new vision of commerce just because it is the latest version, but because it offers customers the ability to shop wherever, whenever, and however they want, he explained. That is the "holy grail," commented Fortune's Stephanie Mehta.
Ashe noted that it would wrong to think of the company's e-commerce division as a separate business. "It be foolish for us to run way from 10,000 stores or 240 million customers," he told Mehta. But that doesn't mean he thinks Walmart.com should just be an add-on. The best solution, he said, is to create a seamless experience from mobile to online to stores for customers.
Follow Meghan on Twitter @MFoley_WSCS