Wal-Mart Looks To eCommerce and 3 Dow Movers for Thursday
Microsoft Corporation (NASDAQ:MSFT): Current price $28.51
Global information tech spending is projected at a total of $3.8 trillion in 2013, representing a 4.1 percent rise from 2012 spending of $3.6 trillion, says the most recent forecast by Gartner. Worldwide devices spending should reach $718 billion in 2013, up 7.9 percent from 2012. In the face of flat spending on PCs and a modest drop in spending on printers, a short-term boost to expenditures on premium mobile phones has prompted an upward revision in the devices' sector growth for the current year from Gartner's prior forecast of 6.3 percent. The outlook for 2013 for data center systems spending is projected to grow by 3.7 percent in 2013, which is down 0.7 percent from Gartner's previous forecast.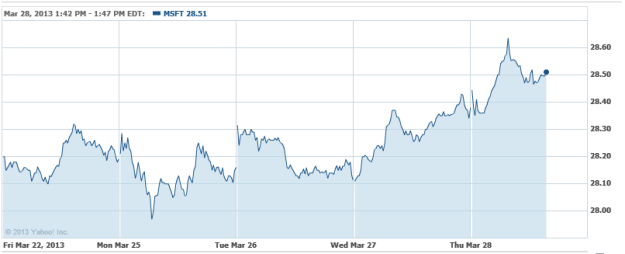 Pfizer (NYSE:PFE):  Current price $28.75
Pfizer reported that the European Commission has awarded conditional marketing authorization for Bosulif in the European Union for the treatment of adult patients suffering from chronic phase, accelerated phase and blast phase Philadelphia chromosome positive chronic myelogenous leukemia previously treated with at least one tyrosine kinase inhibitors, and for whom imatinib, nilotinib and dasatinib are not indicated as appropriate treatment options.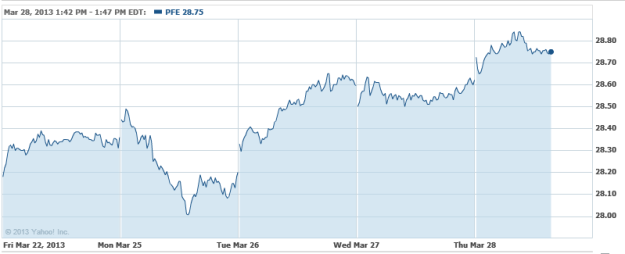 AT&T (NYSE:T):  Current price $36.67
AT&T will begin accepting preorders for Samsung's Galaxy S 4 smartphones on April 16th, according to BGR.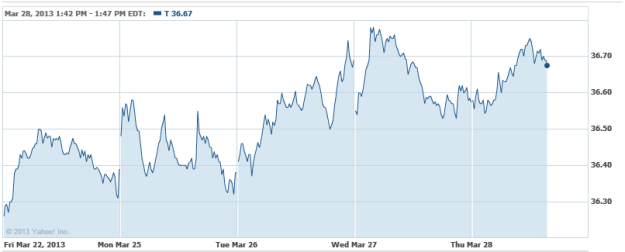 Wal-Mart Stores (NYSE:WMT):  Current price $74.66
Wal-Mart wants to lure higher earning customers through its e-commerce business, in its ongoing rivalry with Amazon.com (NASDAQ:AMZN), said the Financial Times, quoting the Wal-Mart's CEO of e-commerce as saying, "We own what we own, and we're going after what we don't."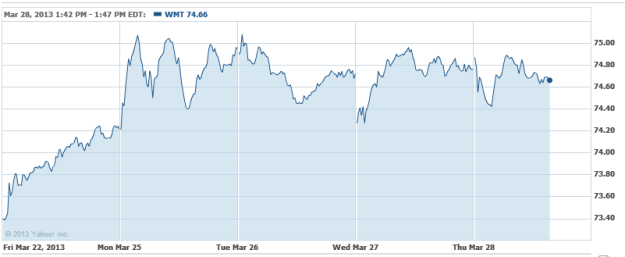 Don't Miss: Wal-Mart: Bribery Doesn't Pay.