Wal-Mart Loses Prices Edge to Dollar General and 2 Other Dow Movers to Watch
Wal-Mart Stores Inc. (NYSE:WMT): Current price $76.00
Wherever one goes, consumers are trying to get the most value for their money. A Kantar Retail survey released on Thursday indicates that Dollar General is handling their attempts more than many other retailers, as the deep discounter took the top rank as the least expensive place to shop, narrowly edging out Wal-Mart Stores' supercenters. For the second consecutive year, Dollar General has topped out Kantar's opening  price point survey, which found that its total basket, at $28.70, came in 12 cents below that of Wal-Mart supercenters.

AT&T Inc. (NYSE:T): Current price $35.09
On Friday, AT&T said that it is hiring workers for over 100 jobs in North Carolina, including close to 30 new positions, to keep up with the current network investment and rising demand for its wireless and wireline products and services. The openings are primarily a mix of technician and retail positions spanning the state, and result from AT&T's continued investment in North Carolina to support network improvement and customer service.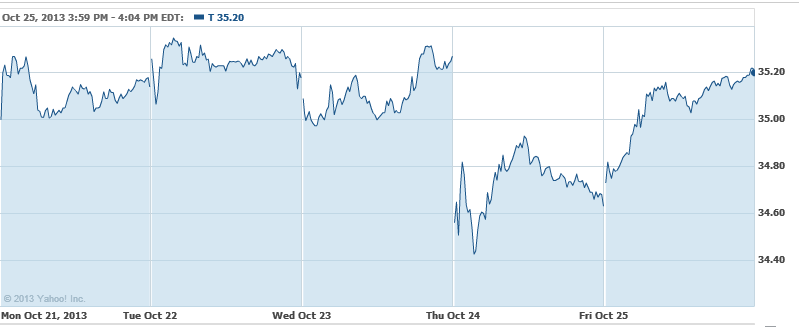 The Walt Disney Co. (NYSE:DIS): Current price $69.03
Disney says that it is poised to launch its first store in Shanghai, expected to be its biggest ever, emphasizing the need to serve China's growing middle class. The 53,000-square feet Disney Store, which should open in early 2015, will be positioned in Shanghai's financial hub and will feature retail space and a Disney-themed outdoor plaza area. Executive Vice President and Managing Director, the Walt Disney Company, Greater China, Stanley Cheung, said that, "China's flagship Disney Store will feature the largest and most diverse collection of Disney products by local and international designers."

Don't Miss: Fitch: J.C. Penney Turnaround Is Possible But Ambitious.