Wal-Mart Opens New Distribution Centers un TX & PA and 2 Other Dow Movers to Watch
Wal-Mart Stores Inc. (NYSE:WMT): Current price $73.54
So as to better compete with Amazon.com, Wal-Mart is launching two new distribution centers for filling online orders. On Tuesday, the colossal retailer said that one center in Fort Worth, which employs 275 full-time associates, started shipping orders last week. The other, located in Bethlehem, Pennsylvania, will ultimately employ over 350 full-time workers, and is on track to open during Wal-Mart's fiscal first quarter of 2014. All told, the new operations will process hundreds of thousands of items ranging from toys and electronics to apparel.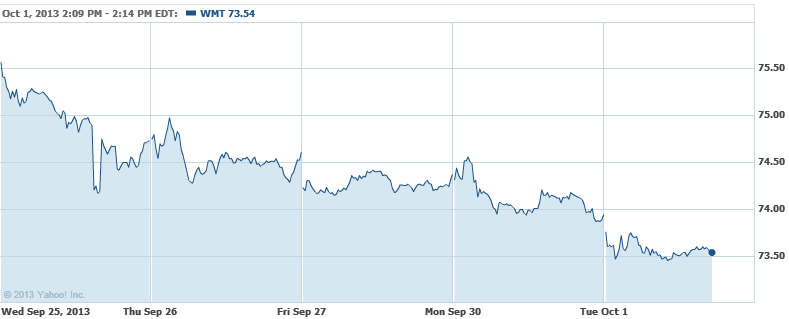 United Technologies Corp. (NYSE:UTX): Current price $107.05
The United Technologies Pratt & Whitney division has been awarded a contract worth as much as $2.5 billion to help supply the United States military with spare parts for weapons systems, said the Defense Logistics Agency on Monday. The contract will be effective through September 30, 2018 and provide parts for the Army, Navy, Air Force and Marine Corps. The deal was a sole-source purchase, and the money to fund it will come from defense working capital monies from fiscal year 2014.

Visa Inc. (NYSE:V): Current price $193.31
On Tuesday, Visa, MasterCard and American Express debuted a proposed framework for a new worldwide standard to improve the security of digital payments and facilitate the purchasing experience while shopping on a mobile phone, tablet, personal computer or other smart devices. According to an August 2013 report from the United States Census Bureau, some 6 percent of all retail sales nowadays are conducted digitally, up by close to 200 percent since the first quarter of 2004. A number of industry activities, led by issuing and acquiring financial institutions, have already been introduced to assist in the streamlining and further securing of payments in digital channels.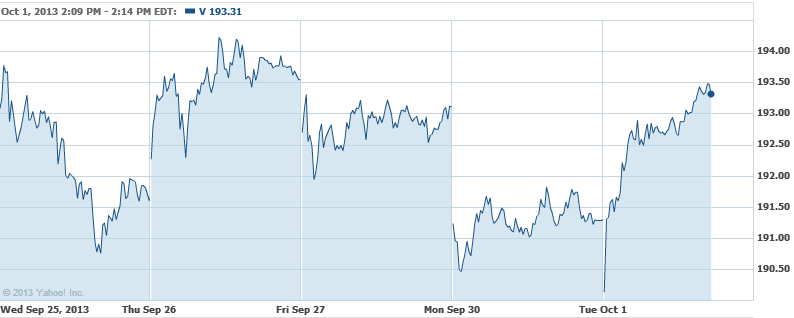 Don't Miss:OS Market Share Figures Suggest Upcoming iPhone Spike.