Wal-Mart Starts Holiday Product Discounting Early and 2 Other Dow Movers to Watch
Wal-Mart Stores Inc. (NYSE:WMT): Current price $76.97
Did the holiday shopping season begin already? On Friday, Wal-Mart started discounting throughout its stores in an attempt to lure holiday shoppers, much earlier than the typical Thanksgiving sales at the end of November. The retailer will offer discounts across categories all the way from electronics to apparel — one example is an 8-inch Nextbook tablet, which will go for $99 in its stores; buying the device somewhere else will run upwards of $139.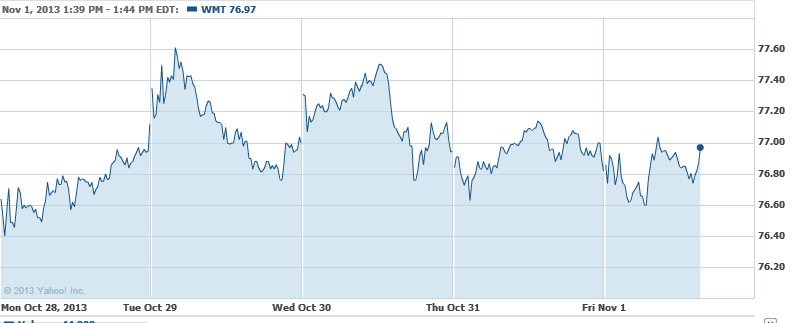 Exxon Mobil Corp. (NYSE:XOM): Current price $88.97
United States District Judge Brian Miller in Little Rock, Arkansas, has turned aside two motions by Exxon Mobil in a lawsuit filed subsequent to the oil spill from a ruptured pipeline in the town of Mayflower. Miller denied Exxon Mobil's request to dismiss the lawsuit and certain class-action claims; the company had contended that some members of the class have no standing in the case. Miller's rulings say that the matters are not "plain enough from the pleadings" to strike the class allegations.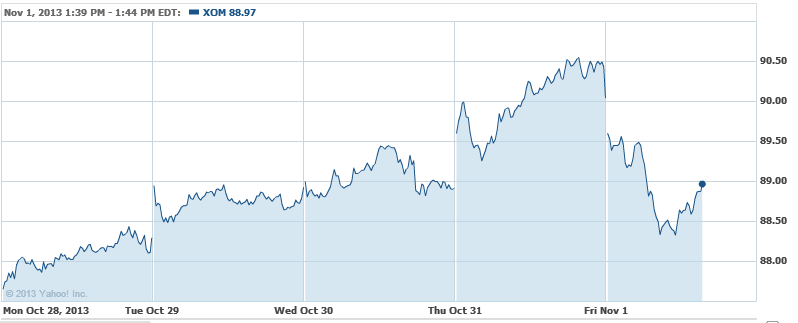 Microsoft Corp. (NASDAQ:MSFT): Current price $35.49
According to
The Verge
, Microsoft is said to be
planning to spend
even more this year on Windows 8.1 than it did in its campaign for Windows 8 and Surface last year.
Winsupersite
says that Microsoft spent $241 million on retail Windows endeavors in 2012 but that it will likely to spend some $405 million in 2013. Around $131 million of that will reportedly be concerned with offers and incentives, and the remainder, $274 million, will be go for marketing and operating costs, with the target being to push Windows tablets in retail stores.