Wal-Mart Ties Compensation to Compliance, Credit Suisse Has a Shareholder Problem, and 3 Hot Stocks to Watch
Wal–Mart (NYSE:WMT): Wal-Mart has decided that a portion of its executive compensation will be based on the company's compliance overhaul, the result of a federal investigation last year into allegations of bribery in Mexico. Wal-Mart has merged its compliance, ethics, investigations, and legal offices into one organization reporting to its general counsel, in efforts to more effectively address its compliance issues.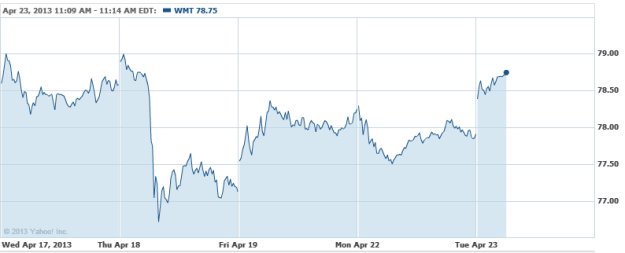 AbbVie (NYSE:ABBV): The company's oral medication — which comes in five components — has successfully wiped out the hepatitis C virus in 88 percent of patients, after 8 weeks of treatment. Previous results showed the combination treatment rendered the virus undetectable in 99 percent of patients after 12 weeks. Roughly 160 million people are chronically affected by hepatitis C globally. AbbVie is in a race with Gilead (NYSE:GIL) to bring a hepatitis C treatment to market capable of providing intravenous interferon, but without affecting cure rates or times.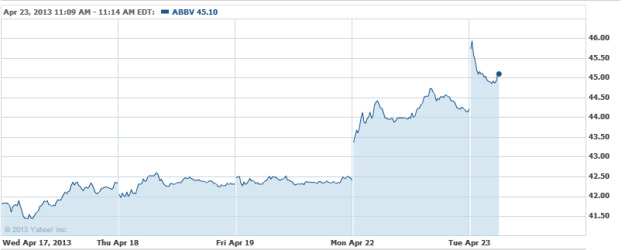 Credit Suisse (NYSE:CS): Shareholders are showing more resistance to compensation proposals, adding additional headaches for banks such as Credit Suisse, which is already contending with clamping regulatory pressures. During its upcoming annual shareholders meeting, the bank is expected to propose a measure that includes offering 27 million shares as apart of its compensation plan, which is expected to draw fire from shareholders. Proxy advisory firm ISS has recommended that the shareholders reject the plan.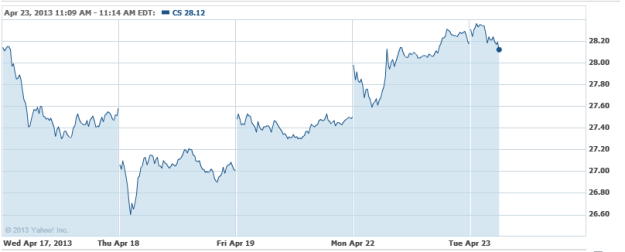 Caterpillar (NYSE:CAT): JPMorgan has raised its price target on Caterpillar to $100, and has upgraded the shares to Overweight following a weak quarterly report from the company. The firm believes that the downside has already been priced into the stock.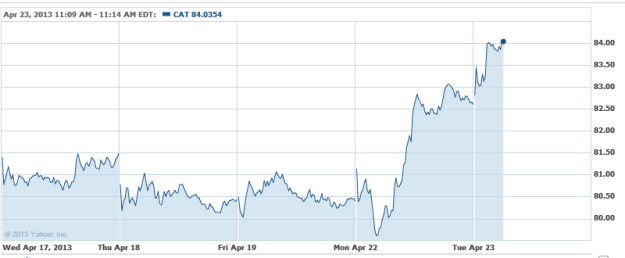 U.S. Airways (NYSE:LCC): Earnings per share of $0.31 beat estimates by $0.05, and the company reported revenue of $3.4 billion. Shares rose in pre-market and morning trading, as the carrier improved its passenger revenue per available mile resulting in a 3.8 percent raise in mainline passenger revenue.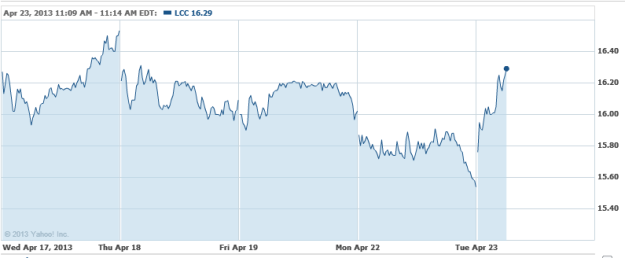 Don't Miss: P&G's Salmonella Nightmare Isn't Over.