Wal-Mart Wages War on the D.C. Council's New Legislation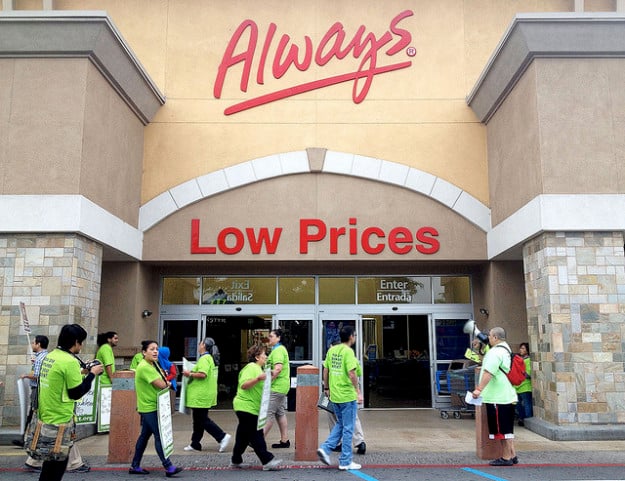 Wal-Mart Stores Inc. (NYSE:WMT) is positioning D.C. lawmakers between a rock and a hard place.
According to Fox News, the D.C. Council is in the midst of drawing up "living wage" legislation, and the lawmakers will soon vote on a bill that, if approved, will force Wal-Mart to pay its employees at least $12.50 an hour. The proposal of the bill reflects great news for Wal-Mart employees who have long been campaigning for more livable wages. But now, Wal-Mart is threatening to cancel the construction of its three new stories in D.C. if the legislation passes.
So the question then arises: What's better, a higher wage or a job at all?
The District of Columbia's current minimum wage stands at $8.25. Therefore, the wage increase would represent an almost $4 jump — a dream for Wal-Mart employees who have tried everything to get their employer to raise their pay to a more "livable" wage.
A union-backed group named, OUR Walmart, has been especially vocal in its campaign for a greater number of full-time jobs with predictable schedules and wages that can help employees provide for their families. The group not only organized a caravan to travel to the company's shareholder meeting in Bentonville, Arkansas, in May, but it also made a splash when it led employees to walk out on the job last year on Black Friday, holding signs and chanting, "Stand Up! Live Better!"
So, unsurprisingly, worker advocates and unions support the new legislation, which would still only affect businesses in spaces of 75,000 feet or more. The problem, though, lies in the fact that Wal-Mart public relations executives and lobbyists announced Tuesday that if the bill gets approved, the retailer will be forced to cancel the construction of its three new stores in the D.C. area, claiming that the unforeseen costs would threaten the company's fiscal health and cause the halt in construction.
The news will likely make lawmakers reconsider the legislation. The area under construction in D.C. suffers from high umemployment, and because Wal-Mart's new stores could offer up to 600 new jobs, the D.C. Council will need to agree on which is the lesser of two evils: unemployment or unlivable wages.