Wal-Mart: We Support Obamacare, But Don't Hire Full-Time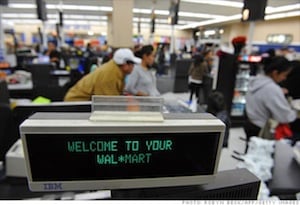 Where have all the full-time employees gone? According to survey taken by Reuters, they won't be many found in the new-hire department of stores owned by Wal-Mart Inc (NYSE:WMT). The company with the largest retail operation in the U.S. (and the largest employer) is turning toward temp employees to fill job vacancies in most locations, a practice commonly reserved for the holiday season. The hiring trend is leading many to believe it's a reaction to the realities of the Affordable Care Act.
The Reuters survey involved a check with managers and HR departments of stores in every state in the Union, and revealed 27 out of the 52 were only hiring temps. Among the other 20 that were hiring,  it was a combination of part-time, temps, and full-time employees. None were hiring only full-time workers. The practice has brought the number of temps to nearly 10 percent of the workforce, a significant hike from the 1 to 2 percent Walmart stores employed before this year.
CEO Bill Simmons, head of U.S. Walmart stores, described the practice as a way of keeping things practical. "Their hours flex by the needs of the business from time to time," he told reporters recently. Wal-Mart is facing a great deal of competition from Target (NYSE:TGT) and wholesale discount operations that rival Wal-Mart's Sam's Club stores. Will fewer full-time employees leave stores understaffed and lead to the loss of more customers?
Cutting the hours of the workforce often leads to poorly run stores, and Wal-Mart has taken heat in the past for being unable to keep products stocked on the shelves. Wal-Mart did back Obama's ACA legislation before the law was passed, but that's led critics to surmise it now uses ACA as a way to avoid paying for employee health insurance. Employees must work at least 30 hours a week to qualify for insurance, or must work at a Walmart store for one year (turnover in retail work is usually much faster).
Typically, temporary hiring is reserved for busy seasons or during periods when the job market is weak. Would Wal-Mart be able to continue hiring so many temps if the economy improved? That's unlikely, as more experienced workers would gravitate toward employers offering the most attractive packages. If Wal-Mart continued staffing stores with a high-turnover group of employees, it would be even more apparent in its unkempt stores. For now, the company is cutting costs any way possible.
Don't Miss: Did Lululemon Chairman Dump Shares Before Big Announcement?