Wal-Mart Will Give Promotions to 25,000 Workers and 2 Other Dow Movers to Watch
Wal-Mart Stores Inc. (NYSE:WMT): Current price $76.89
Throughout the fourth quarter, Wal-Mart said will promote some 25,000 employees as it concludes a yearlong campaign emphasizing opportunities for career development and financial stability. The retailer kicked off the promotions at ceremonies on Tuesday in its Secaucus, New Jersey, store along with 15 other markets including Atlanta and Denver. The mostly hourly employees will be promoted to a variety of jobs, some to store management positions, and will receive higher pay and heightened responsibility. Spokesman Kory Lundberg said the promotions are being given to employees who have already applied and interviewed for them.

MasterCard Inc. (NYSE:V): Current price $204.46
Vietnam Visa 123 announced Tuesday that it has come to an agreement with the Vietnamese government to permit the firm to offer an urgent visa service, allowing travelers to board a plane without a visa and then receive one upon landing in Vietnam. This eliminates delays for visitors. At a time when security and identity theft are major worries, all transactions with Vietnam Visa 123 are guaranteed secure, resulting from its strategic partnerships with MasterCard and International Secured Standard, as well as Onepay, MasterCard's Vietnamese business partner.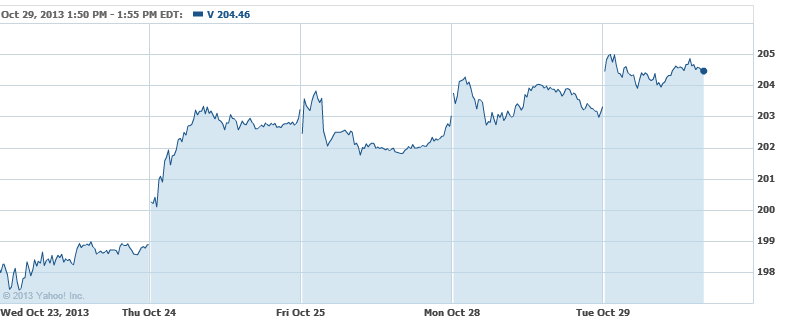 United Technologies Corp. (NYSE:UTX): Current price $106.35
As the 50th anniversary of President John F. Kennedy's assassination nears, more attention is being focused upon his grave at Arlington National Cemetery. On Tuesday, the iconic Eternal Flame was returned to its permanent location, following a recent upgrade that included new monitoring and ignition controls installed by Fenwal Controls, a part of UTC Building & Industrial Systems, which is a division of United Technologies Corp. In 1967, Fenwal designed the Eternal Flame's ignition system, and the upgrade was completed in advance of the anniversary of Kennedy's death.

Don't Miss: 7 Superfoods to Gobble Up This Thanksgiving.