Wal-Mart's Asda Considers Rescuing HMV & 2 Dow Movers for Tuesday
Microsoft Corporation (NASDAQ:MSFT): Current price $27.79
With the arrival of new consoles from Microsoft, Sony Corporation (NYSE:SNE), and Nintendo, videogame stocks are getting a new catalyst, the first since 2006. New consoles has generally called for new games to play on them, but nowadays more people are playing games on mobile phones and tablets. There also exists new competition for control of the living room, including more capable DVRs and Internet-connected TVs, and to some console makers, that could indeed be reason for worry, according to the The Wall Street Journal's Heard on the Street.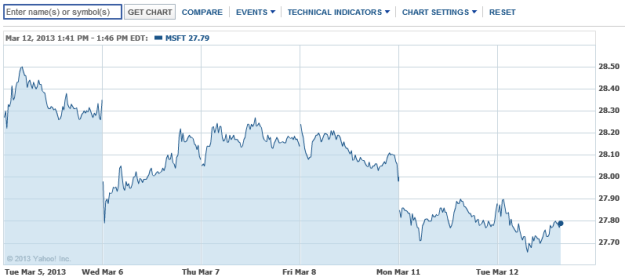 The Travelers Companies (NYSE:TRV): Current price $81.64
The United States government's attempts to punish directors and executives of the big banks that failed during the financial crisis, are impacting thousands of small banks, says The Wall Street Journal. Insurance premiums covering directors and officers are jumping sharply as the FDIC, endeavoring to replenish funds paid out to depositors of collapsed banks, steps up its legal pursuit of officials ranging from failed community lenders to insurance executives and banking-industry lawyers. Estimates for premiums for small banks have risen at least 15 percent since the crisis. Some insurers are also increasing deductibles and writing policies that leave policyholders uncovered if regulators take future action.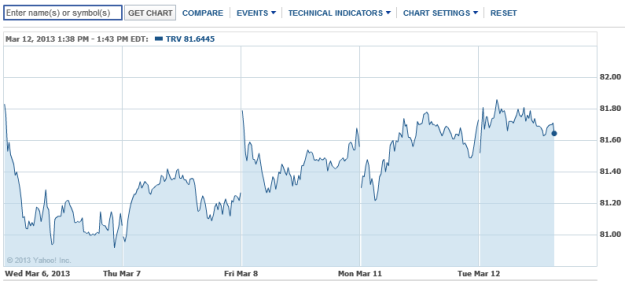 Wal-Mart Stores (NYSE:WMT): Current price $73.68
Wal-Mart's Asda division might be thinking over a rescue offer for HMV, which is an entertainment retailer that collapsed into administration in January, says the Telegraph.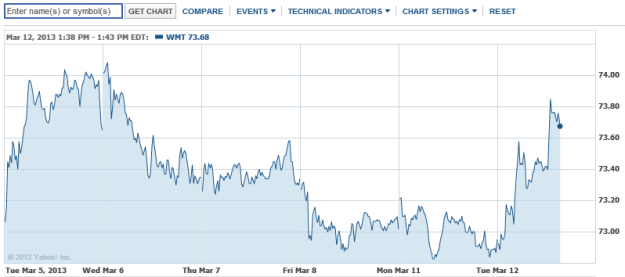 Don't Miss: The Next Step in McDonald's Michigan Fiasco.