Wal-Mart's Bangladesh Ban Has Legs and 2 Other Dow Movers to Watch
Wal-Mart Stores (NYSE:WMT): Current price $75.01
One day following Wal-Mart adding Simco Group's name to its list of banned Bangladesh suppliers, the latter found that it had lost an order from J.C. Penney & Co. (NYSE:JCP) for a half-million pairs of pajamas. Simco's head of operations Khurrum Siddique says that there is a linkup here, as his factories, named together with numbers of others on Wal-Mart's "red" list of unauthorized suppliers that was first published on May 14, are now pariahs for Western brands that are trying to be very carful in Bangladesh subsequent to a spate of deadly workplace accidents. The harm to the reputations to these businesses uncovers a dilemma for multinationals since the April 24 collapse of a building outside Dhaka that killed 1,130 people.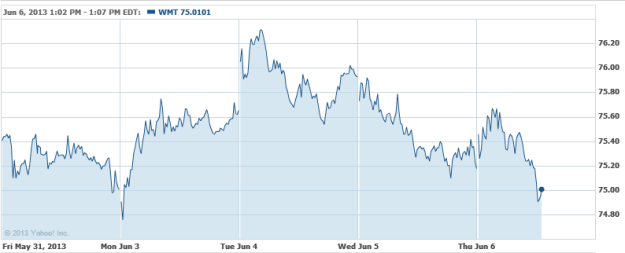 McDonald's Corporation (NYSE:MCD): Current price $95.75
Many folks love breakfast any time of the day or night, and beginning in June, McDonald's reports that participating 24-hour restaurants in certain locations will offer an "After Midnight" menu which contains its Egg McMuffin, Big Mac, and Chicken McNuggets. Customers will be able to form "Midnight Value Meals" at their preferences, with fries or hash browns as their side items. The intro of the menu, available from midnight through 4 a.m., builds on a "Breakfast After Midnight" menu the fast-food behemoth has been testing.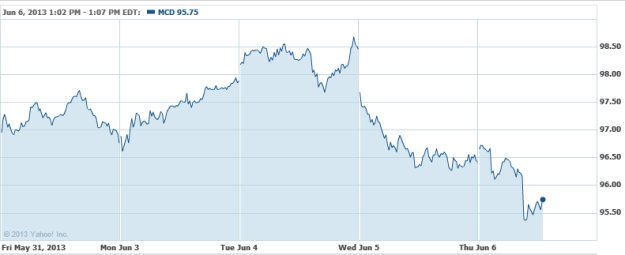 The Travelers Companies (NYSE:TRV): Current price $81.11
The insurer's ex-dividend date is Thursday June 6, and holders of shares as of market close Wednesday are eligible for a dividend of 50 cents per share. At a price of $83.29 as of 9:30 a.m. Eastern Time yesterday, the dividend yield is 2.4 percent. Travelers Companies has a market cap of $31.53 billion, and forms part of the financial sector and insurance industry. Shares are up by 16.7 percent in 2013 as of the close on Tuesday.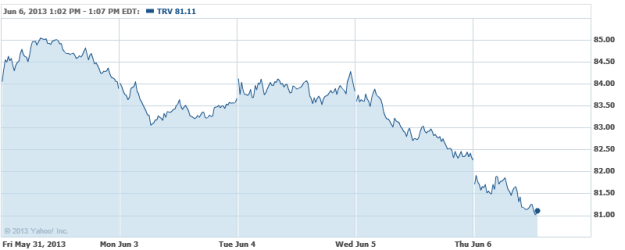 Don't Miss: Feeling McBurned by McDonald's? Turn to Hardee's.