Wal-Mart's Beer Business, Microsoft's Stock Buyback: Market Recap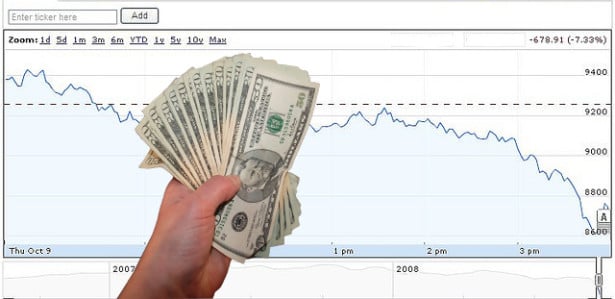 U.S. stocks rose Tuesday as the Federal Reserve began its two-day policy meeting. Investors are looking forward to hearing the Fed's statement after the culmination of the central bank's meeting Wednesday. It's expected that the Fed will decide to begin curbing its bond purchases by up to $10 million per month after the meeting.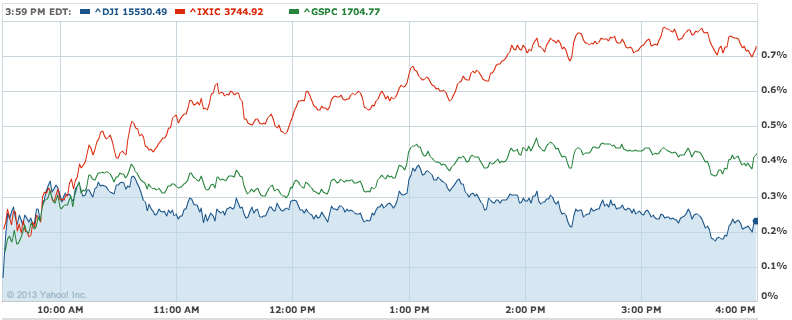 Gold: -0.59% to $1,310 per ounce; Oil: -1.1% to $105.42 per barrel; U.S. 10-Year: -0.73 to 2.853%.
How Will Soft Consumer Price Inflation Affect Fed Policymaking?: The Bureau of Labor Statistics's seasonally adjusted Consumer Price Index for All Urban Consumers, or CPI-U, increased by 0.1 percent on the month in August. This is consistent with economist expectations, but the data also mark the continuation of a troubling trend… (Read more.)
Retail Sales: Day-to-Day Spending Stuck in Low Gear: For much of the second quarter, analysts insisted that strong consumer spending would boost economic growth in the second half of the year as earlier drags — from higher payroll taxes and decreases in government spending — worked their way through the system. But last month's retail sales data put that assertion into question… (Read more.)
Foreign Investors Return to U.S. as Taper Talk Heats Up: Foreign residents increased their holdings of U.S. securities in July, according to the Treasury International Capital report. The U.S. Treasury reports that net foreign acquisitions of U.S. securities by all foreign investors — both private and public — was $56.7 billion, a substantial increase over the net outflow of $67 billion experienced in June… (Read more.)
Here's your cheat sheet to today's top stocks stories.
Wal-Mart Stores (NYSE:WMT) said in August that it was implementing new strategies to help drive its beer business, and now, Wal-Mart is brewing up more news. Wal-Mart might be the world's largest retailer, but it's not yet the world's largest beer seller, and that's a reality it'd like to change… (Read more.)
Microsoft Corp. (NASDAQ:MSFT) has declared a 28 cent per share dividend, up 22 percent over Microsoft's last dividend offering. Additionally, Microsoft has announced a new $40 billion stock buyback, representing a repurchase of 14 percent of its outstanding shares at current levels. The new program replaces another $40 billion program that is set to expire September 30.
Pandora Media (NYSE:P) shares bounced back from an after-hours dip Monday night, following Pandora's announcement that it would be issuing 10 million new shares and selling 4 million on behalf of  venture capital firm Crosslink Capital. Crosslink will still own 25 million shares after the offering is completed, and underwriters will have a 2.1 million share over-allotment option. Pandora intends to use the cash generated for "general corporate purposes, including working capital and capital expenditures," along with potential acquisitions.
JPMorgan Chase (NYSE:JPM) may finally be looking at the end of the London Whale trading scandal. People who were briefed on the matter told The New York Times that JPMorgan reached an agreement with authorities in the United States and the United Kingdom to settle the London Whale case for $800 million, plus an admission of wrongdoing. JPMorgan's settlement reportedly covers most regulatory authorities with the notable exception of the Commodity Futures Trading Commission… (Read more.)
Safeway Inc. (NYSE:SWY) shares are up by more that 7 percent Tuesday morning in heavy volume as the grocer reported a one-year stockholder rights plan, which includes the activation of a poison pill should a person or group purchase 10 percent or more of its outstanding common stock, or 15 percent or more in a passive institutional investor situation. The company said it made the announcement after it "became aware of an accumulation of a significant amount of the common stock of the company…" (Read more.)
Outerwall (NASDAQ:OUTR) lowered third-quarter and fiscal year 2013 guidance after the market closed Monday due to the worse-than-expected performance of its Redbox business. While revenues are expected to grow year over year, Redbox profits were lower than expected in part due to heightened promotional activity, which had an adverse impact on average transaction size and led to more single-night rentals… (Read more.)
Don't Miss: JPMorgan to Admit Wrongdoing in London Whale Loss.