Wal-Mart's Earnings Miss Presents an Opportunity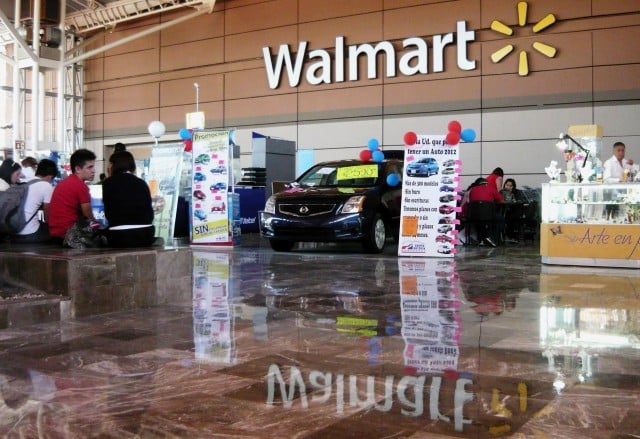 On Thursday morning, Wal-Mart (NYSE:WMT) reported its Q1 2015 earnings. On the surface, the figures were weak as EPS and sales missed analyst estimates. However, Wal-Mart is proving to be an outperformer among its peers in the retail space. Furthermore, the company is showing strength in its new smaller neighborhood stores that are designed for consumers in small towns and for consumers looking for a faster shopping experience.
Let us look at the specifics.
Wal-Mart reported net earnings of $3.6 billion, or earnings per share of $1.11. This compares to $3.8 billion in earnings in the quarter ended April 30, 2013, or EPS of $1.15. The disparity between the two resulted from the company's stock repurchase program, which reduced the number of shares outstanding from about 3.32 billion to 3.25 billion.
Sales were up slightly from $114 billion last year to $115 billion this year — an increase of 0.8 percent. With sales up and net income down, it follows that Wal-Mart, like many other retailers, is suffering from margin compression. This is in part due to a strong dollar, as Wal-Mart reported a 2.1 percent increase in sales if we correct for currency fluctuations.
Ultimately, Wal-Mart's earnings are a microcosm of the retail landscape more generally. While sales were up year-over-year, the rate of increase is decelerating. Furthermore, the company is suffering from margin compression due to the dollar's strength relative to other currencies, as well as strength in commodity prices.
While Wal-Mart's shares are down 2.5 percent for the day — reflecting investor concern — I think that the company's weak performance relative to expectations is less a reflection of Wal-Mart's shortcomings and more a reflection of the fact that analysts are over-optimistic in their assessment of the American retail landscape. The fact that analysts have overlooked this weakness was evidenced on Tuesday when American retail sales figures came in worse than expected.
While there is no evidence that the retail environment is going to pick up any time soon, Wal-Mart should continue to be an outperformer in the retail space for the foreseeable future. So far this year, Wal-Mart shares have significantly outperformed the SPDR Retail ETF (XRT), which is down 7 percent versus Wal-Mart, which is down about 2.5 percent for the year. Wal-Mart has been a leader in the retail space as it offers unparalleled value to consumers. This is possible because of Wal-Mart's incredible size, which enables it to purchase items in bulk at a discount to its peers. It also has an incredible distribution network, which improves efficiencies.
Furthermore, the company continues to innovate despite being a mega-cap company. It has been opening smaller stores to appeal to shoppers looking for a quicker experience, and these have been very successful. Despite the fact that the company's sales were more or less flat year-over-year, these smaller stores saw a 5 percent sales increase. While this isn't enough to move the needle for a $250 billion company, it is indicative of management's competence.
The company also recently announced its intention to enter the money transfer business, which is currently dominated by Western Union (NYSE:WU). While this business has been in decline, it could serve Wal-Mart well, as shoppers can easily use this service to cash their checks and money orders and then spend this money in the store. Many customers who use this service are receiving government checks and they often don't have a lot of money. The fact that they can both cash these checks and bargain shop at the same location will save them money, and Wal-Mart should be able to take a sizeable portion of this business. Again, while this won't move the needle much, it shows that management is doing things in order to improve the business, which is something that is very difficult to do as the market leader.
With stocks turning lower, and Wal-Mart in particular shedding 2.5 percent it appears as if an opportunity is developing. While I wouldn't buy the stock just yet, I think that if it trades down to the low $70-rage that investors should consider taking a position. Not only is Wal-Mart a leading retailer, but technically the stock has a lot of support in the low $70s. Shares traded from the $40s to about $70/share for more than a decade before breaking out. The stock is now consolidating these gains, and I suspect that the next major move will be higher.
Disclosure: Ben Kramer-Miller has no position in Wal-Mart.
More From Wall St. Cheat Sheet: