Wal-Mart's "Made in America" Campaign Makes Everyone a Winner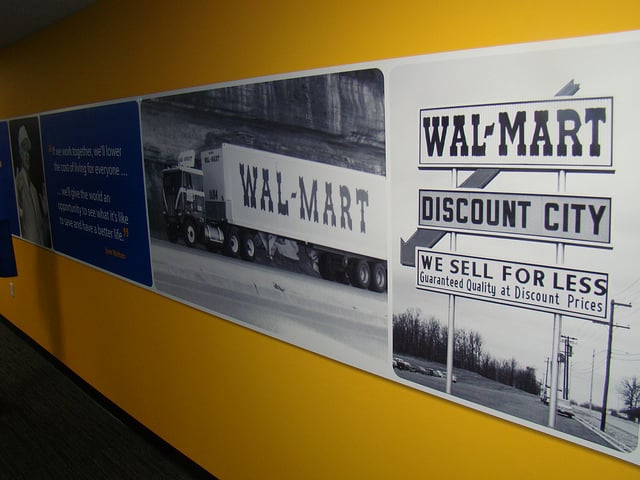 Wal-Mart Stores (NYSE:WMT) has recently won the approval of many consumers as it touts its new "Made in America" campaign. For the past nine months, the world's largest retailer has worked to demonstrate its commitment to U.S. manufacturing by vowing to buy an additional $50 billion in U.S.-made goods over the next 10 years, and many are now saluting the company's efforts to help lead "an American renewal in manufacturing."
Earlier in September, we learned that Wal-Mart was sticking to its promise by offering a wide range of U.S.-manufactured goods, including socks, towels, light bulbs, and candles. These products' production has effectively created more than 1,200 jobs in the U.S., and the advantages don't stop there. Many U.S. manufacturers are also reaping the benefits of the new campaign by drawing increased attention from Wal-Mart which has previously employed more overseas suppliers. Now, the retailer is looking for more ways to prove its commitment to the American cause, and that's where attention-hungry U.S.-based manufacturers come in.
The Wall Street Journal highlighted these benefiting U.S. companies Sunday and used the example of Wal-Mart's newest announcement Monday that Redman & Associates LLP will open a plant next year in Rogers, Ark., to make battery-powered cars to supply to Wal-Mart. While these popular products are usually imported from China, Wal-Mart is now interested in receiving them from a U.S.-based company, and Redman will thus be one of the first to benefit.
Kayser-Roth Corp., the producer of No Nonsense brand socks for women, is another example of a company that is expecting to profit from Wal-Mart's new campaign. The manufacturer already supplies socks for the popular retailer, but the Journal reports that it expects to win more shelf space in early 2014, and that's because its client is now more committed to ordering its products locally.
Kayser-Roth fits the bills as it has factories in Tennessee and North Carolina, and it also keeps its sock prices low, which we know Wal-Mart especially demands. The company is now investing about $18 million in new equipment and other items, hoping that its orders will soon pick up, but it won't be raising its prices anytime soon.
Wal-Mart's senior vice president, Michelle Gloeckler, warns that the retailer won't buy U.S. good if its means higher prices, explaining, "We don't believe the customer should pay more."
However, unsurprisingly, as impressive as Wal-Mart's new "Made in America" commitment is, the campaign is not solely driven by patriotic duty. Financial rewards for the retailer also work themselves into the equation.
According to the Journal, Wal-Mart reduces its inventory costs if it orders locally because goods spend less time in transit, and the short distance that products travel allows the retailer to better stock its shelves as soon as consumer trends come and go. In addition, U.S. consumers have shown an increased likelihood to support the products which bear the "Made in America" badge, so that is an additional marketing strategy that Wal-Mart can employ.
So far, the consumer wins its customers over with its locally produced food, locks and door hardware, light bulbs, televisions, tea light candles, socks, and towels, but soon, that wide range of products could expand much more as more and more suppliers work to get their hand in the Wal-Mart pot.
Don't Miss: Wal-Mart Runs into Trouble in India.